RenewableEnergyStocks.com Reports - Building Integrated Photovoltaics Working Towards Energy Security and Infrastructure Protection
Report: Homeland Security and Energy Independence Issues Addressed by Solar Technology
RenewableEnergyStocks.com Reports - Building Integrated Photovoltaics Working Towards Energy Security and Infrastructure Protection
POINT ROBERTS, Wash., July 28th, 2005 - www.RenewableEnergyStocks.com (RES), an investor and industry news portal for the renewable energy sector, and www.HomelandDefenseStocks.com (HDS), a news portal for the security industry, report on Building Integrated Photovoltaics (BIPV), technology that allows solar photovoltaic material in the form of photoelectric panels to be incorporated into the design of buildings, providing additional sources for power production and a means of pursuing energy security and protecting infrastructure. Firms developing BIPV technology such as XsunX, Inc. (OTCBB: XSNX), a developer of PowerGlass', a proprietary process turning the glass skin of modern high rise and commercial buildings into massive power generating systems and EPOD International, Inc. (OTCBB: EPOI), a developer of solar power storage and management technologies, see considerable industry opportunity on many levels. In addition, Barnabus Energy, Inc. (OTC BB: BBSE), an energy company focused on low risk development opportunities, is working towards alternative methods of power generation for purposes such as industrial parks.
Report Excerpt: Building Integrated Photovoltaics Working Towards Energy Security and Infrastructure Protection
By Ann-Marie Fleming, www.RenewableEnergyStocks.com, www.HomelandDefenseStocks.com
July 2005
As terrorist attacks continue and natural disasters as well as power failures place our energy supply and infrastructure at risk, technologies such as BIPV represent a viable opportunity for protection against the vulnerability of the existing electrical grid. In addition to long term cost savings and the environmental benefits that solar power technology provides, Building Integrated Photovoltaics allows for on-site energy production and storage, providing an excellent source for distributed energy without dependence on vulnerable centralized electricity plants and grids. "BIPV technologies provide a means for integrating environmental values with economic vitality," stated Tom Djokovich, XsunX's CEO. "One of the added benefits in producing clean power on site is the potential for BIPV technologies to also work together to help build energy independence and energy security in the form of distributed power networks. In today's energy intensive economies, access to power has become one of the primary aspects in creating and maintaining economic vitality." Utilizing a distributed power source creates an environment that is less susceptible to massive outages due to hostile threats, natural disasters and blackouts, while building alternatives to dependence on foreign resources.
Overall, as rising energy prices, increasing power demands and security risks to our resources and infrastructure continue, many are turning to alternative solutions for energy protection and independence through technologies such as BIPV. As technologies evolve, energy production can be efficiently and effectively incorporated into our daily lives as commercial buildings, homes, and industrial structures can become independent power generators.
To Read the Full Report Click Here:
http://www.RenewableEnergyStocks.com/Companies/RenewableEnergy/RES/Photovoltaics.asp
RES and HDS do not make recommendations, but offer unique free information portals to research news, articles, interviews and a growing list of participating public companies in the renewable energy industry and security sector.
Featured Company: (RES is compensated by companies as disclosed in disclaimer.)
XsunX, Inc (OTCBB: XSNX) is the developer of Power Glass' - an innovative solar technology that allows glass windows to produce electricity from the power of the sun. This proprietary process is intended to allow manufacturers to apply a transparent and photovoltaic glazing to glass and other transparent substrates. When XsunX glazing is exposed to light, the light energy is converted into electrical energy for use as a power source. XsunX believes that its solar electric glazing technology has a number of major market opportunities in the worldwide architectural glass, optical film and plastics markets.
For Access to the Online Audio Interview with XsunX's CEO Click Here:
http://www.investorideas.com/CO/XSNX/Audio/interview_051705.asp
Corporate Profile, News and Info: http://www.renewableenergystocks.com/CO/XSNX/Default.asp
RenewableEnergyStocks.com offers investors research, news and company links within the renewable energy sector. To complement this site, we also feature www.FuelCellCarNews.com to meet the interest in fuel cell technology and the participating public and private companies. InvestorIdeas sites do not give specific recommendations, and encourage investors to complete due diligence.
Our current list of Renewable/Alternative Energy Stocks is available here: www.RenewableEnergyStocks.com/Companies/RenewableEnergy/Stock_List.asp
Our current list of Fuel Cell Stocks is available here:
www.FuelCellCarNews.com/Companies/FuelCellCarnews/Stock_List.asp
RenewableEnergyStocks.com Blog:
Read the latest news and views about the Renewable Energy Industry and Renewable Energy Stocks: http://RenewableEnergyStocks.blogspot.com/
HomelandDefenseStocks.com includes a growing list of public companies in the sector. Click here for a partial list of companies involved in homeland defense and security technology and solutions in Airport Security, Biodefense, Biometrics, Defense, Internet Security, Integrated Security, Military, Border and Port Security. http://www.homelanddefensestocks.com/Companies/HomelandDefense/Stock_List.asp
Additional HDS Homeland Security Web Sites:
www.NationalHomelandSecurityKnowledgebase.com: including comprehensive Homeland Security information resources, Homeland Security news, Homeland Security marketplace, directories and a collection of links on Homeland Security related topics.
www.BorderAndPortSecurity.com
www.NonlethalStocks.com
www.BiodefenseStocks.com
HomelandDefenseStocks.com Blog:
Read the latest news and views about the Homeland Defense Industry and Homeland Security Stocks: www.InvestorIdeas.com/blogs/index.html or www.HomelandDefenseStocksblog.com/blogs/index.html
Disclaimer: ECON Investor Relations Inc is the owner of the domain www.RenewableEnergyStocks.com and www.FuelCellCarNews.com . Our site does not make recommendations, but offers a unique information portal to investors to research news, articles, and recent research. Nothing on our sites should be construed as an offer or solicitation to buy or sell any specific products or securities. All investments involve risk. Although we attempt to research thoroughly, we offer no guarantees as to the accuracy of any information presented. We encourage all investors to use our sites only as a resource to further their own research. All information relating to featured companies is sourced from public documents and/ or the company and is not the opinion of ECON or its related web sites. The site is currently compensated for by its "featured company." XSUNX Inc. (OTCBB: XSNX) Three thousand five hundred dollars per month and two thousand equivalent in one forty-four shares. www.InvestorIdeas.com/About/Disclaimer.asp
For more information contact:
Dawn Van Zant 800.665.0411
Ann-Marie Fleming 866.725.2554
Email: dvanzant@investorideas.com, or afleming@investorideas.com
Web Site: www.InvestorIdeas.com
Featured Product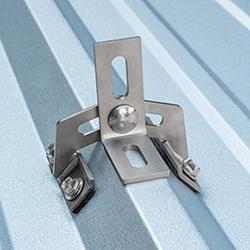 They have been changing the game for 10 years with their original Top Mount line for Asphalt Shingle roofs, and by now supplying one of the widest ranges of solar mounts in North America. From their patented products, to the custom production services they offer, QuickBOLT has been working with solar installers for nearly a decade to make solar installations easier than ever before.