The federal government in Canada will contribute $1 million to launch the first phase of a net zero energy housing initiative that initially will install solar PV panels for green power, and later include geothermal heat pumps for green heat.
WATERLOO, Ontario, Canada: The funding of $1 million from Central Mortgage & Housing Corporation will launch the first phase that will see net zero energy home demonstrations across Canada within 18 months, with community-scale demonstrations of 1,500 homes to be started within five years.

"The net zero energy healthy housing initiative is designed to help reduce the energy intensity of Canada's housing sector, support the growing renewable energy and sustainable housing industries, and help Canada meet its goal of reducing GHG emissions," says housing minister Joe Fontana. "The net zero energy healthy housing initiative strengthens the government of Canada's commitment to building safe, healthy, and sustainable communities."
Housing consumes 17% of secondary energy use in Canada and emits 16% of national GHG, and the goal of the initiative is to support a range of measures which ultimately will lead to housing that has a zero net consumption of energy on an annual basis for both heating/cooling and electricity. It will target reduced consumption of land and water resources through application of healthy housing principles.
"This announcement represents an important signal to industry that sustainable housing and renewable energy technologies will play an important role in our communities in the future," says Milfred Hammerbacher of the Net Zero Energy Home Coalition, which includes the Canadian Solar Industries Association, Earth Energy Society of Canada and others that support the vision of all new homes being built to net zero energy healthy housing standards by 2030.
"By integrating green energy technologies with enhanced energy efficiency, the net zero program represents transformational change that will help us meet our Kyoto commitment and enhance the economic competitiveness of our building sector," adds federal environment minister Stéphane Dion.
Featured Product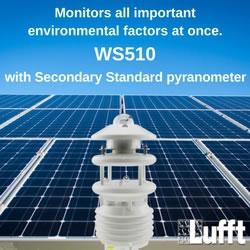 Professional weather sensors form the heart of large solar plants supporting their operation and performance. Lufft was the first manufacturer to combine several sensors in one housing, bringing the largest multiparameter weather sensor family with 19 members into being. Many of them are well-suited for solar site assessment and continuous monitoring. The most commonly used one is the WS600 delivering data on temperature, air pressure, wind, relative humidity and precipitation. Through its open protocol, it can easily be attached to radiation sensors e.g. from Kipp&Zonen. Other models have an integrated Silicon, Second Class or Secondary Standard radiation sensor.