2300 particpants attended SolWest Renewable Energy Fair July 29-31 in John Day, Oregon. Activities began July 27th with a hands-on installation of a utility-intertied solar electric system, and fairgoers enjoyed 51 workshops on energy technology, issues and self-reliance techniques.
2300 particpants of all ages attended the seventh annual SolWest Renewable Energy Fair July 29, 30 and 31 at the Grant County Fairgrounds in John Day, Oregon. Attendees came from ten western states, as well as Hawaii, Alaska, Missouri, Ghana, Uganda, and Mongolia. Pre-fair activities began July 27th with a hands-on workshop to install a utility-intertied solar electric system at a local home.

SolWest fair opened Friday July 29th with the raising of a wind generator tower in the center of the exhibitors' circle. The wind generator blades spun energetically as the sun-warmed air created afternoon thermal breezes.
Do-it-yourselfers, professional solar installers, and others perused rewnewable energy hardware and questioned industry reps at the 47 vendor booths. "Powering your Good Life with Renewable Energy" was the theme of the address by authors and keynote speakers John Ivanko and Lisa Kivirist.
Fairgoers enjoyed 51 workshops on energy technology, issues and self-reliance techniques. This year's hot topics included solar food drying and cooking, high-performance homes, and how to start a community wind project. Some presentations were based on personal experiences, telling stories about living off-grid without a generator, building a "sustainable urban homestead", and designing the Northwest's first entry in the national Solar Decathlon contest. Issues-related discussions included Oregon Tax Credits, renewable energy legislation, and how to deal with your local utility. Kids had their own workshop sessions in which they learned energy basics by playing games and made solar pizza box ovens to bake English-muffin pizzas.
Travis Ratliff of Eugene carried home the gold pan for first in the Open division of the Tour de John Day Electrathon rally, with Willamette teacher Mike Hodgert coming in a not-too-close second and John Day local Nathan Watt taking third. Brandon Hall of Centennial High School in Gresham took first in the student division.
"What a great fair," said Gillian Malone, Renewable Energy coordinator for Wyoming's Powder River Basin Resource Council. "I look forward to seeing you next year."
Featured Product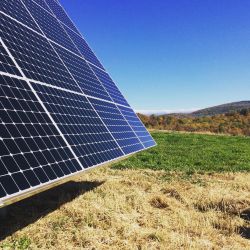 Designed and manufactured in the U.S., the AllEarth Solar Tracker is a complete grid-tied, dual-axis solar electric system that produces up to 45% more electricity than fixed systems. The tracker uses GPS and wireless technology to follow the sun throughout the day for optimal energy production. It has an industry-leading 10 year warranty and 120 mph wind rating, superior snow shedding, and automatic high wind protection. Its simple, durable design and complete system pallet simplifies costly procurement and installation time. Contact us about becoming a dealer partner or purchasing an AllEarth Solar Tracker.