The 'PV Business Tour Spain' will take place from 13 to 18 November of this year. This unique Trade Mission is open to companies interested in learning more about PV business practices and market opportunities in Spain.
Rotterdam, 9 September 2005

Open International PV Trade Mission to Spain
The 'PV Business Tour Spain' will take place from 13 to 18 November of this year. This unique Trade Mission is open to companies interested in learning more about PV business practices and market opportunities in Spain. Included in the programme are visits to Spanish Government agencies, major Spanish PV companies, major projects and important stakeholders. This event will create an effective way to learn all about exploring business opportunities in this rapidly growing PV market. The unique open character of the business tour will lead to new international business contacts being established among the delegates from the different countries. The organisation is provided by www.SolarPlaza.com, the global solar PV marketplace.
Purpose of the PV Business Tour Spain
The purpose of the PV Business Tour Spain is to provide private-sector delegates with an opportunity to assess and explore business opportunities and to promote their company and products in Spain. The participants will have the opportunity to establish relationships and facilitate closer commercial ties in this booming solar market. More specific objectives of the mission include:
· To enhance knowledge of the Spanish market conditions and business opportunities;
· To enable business delegates to meet specific business goals such as becoming familiar with the market opportunities and making individual contacts;
· To develop and expand relationships between the participating companies and business, government and multiplier organisations in Spain; This Trade Mission will concentrate on issues such as the Spanish Government's programme, general Spanish PV market development, industrial developments of the major PV companies, PV project development and project financing and market experiences and opportunities. We are inviting business owners, entrepreneurs, investors and executives interested in exploring business ideas, establishing investment and joint venture opportunities, and developing collaborative networks in Spain to join us.
Fully Organised
"The participants of the tour will not only enjoy the luxury of staying at 4 star hotels but also a fully organised programme" according to Edwin Koot, organiser and president of SolarPlaza. Included in the tour are visits to a PV factory, a sector association, a solar farm and companies and a bank that will present their market experiences and business interests. All travel arrangements related to the tour will be organised by SolarPlaza. A brokerage event is also planned where Spanish and foreign companies can meet one-on-one based on a preselection and personal preferences. "The delegates can focus on establishing new contacts with Spanish people and with other participants. My experiences with previous tours is that strong bonds will be created among the delegates because the informal parts are crucial elements of the tour."
Strong Market Growth and High Dividends
The Spanish solar PV market is expected to grow by at least 40% in 2005. Similar growth figures can be expected for the following year too since the Spanish Government has recently approved the increase of the PV target; it is now set at 400 MW which is to be attained by 2010. The attractive feed-in tariff in Spain provides a good foundation for this growth. The latest survey report from SolarPlaza entitled 'The Spanish PV Market' shows that solar farms are the dominating market segment. More and more companies discover the attractiveness of Spain since financial yields of 8% per year are possible in these projects.
About SolarPlaza
www.SolarPlaza.com is the global independent PV marketplace that offers a range of services that can improve the efficiency for all players involved in the PV supply chain. Our website provides information about 4,000 international PV companies and 2,000 PV products. It also offers an international Trading Floor where modules are offered and traded. The mission of SolarPlaza is to link solar PV businesses to customers. SolarPlaza distributes a free e-mail newsletter, SUN, to about 11,000 people involved in the solar industry worldwide. SolarPlaza works with an international network of partners. Our website will also be available in Chinese and Spanish by next month.
A registration form for the PV Business Tour Spain as well as more information about the Spanish market report can be found on our website www.solarplaza.com.
Contact: Edwin Koot SolarPlaza
President SOLARPLAZA
Conradstraat 18 1E-154
Rotterdam
The Netherlands
P.O. Box 2299
3000 CG Rotterdam
Phone: +31 10 280 9198
Fax: +31 10 280 7265
Website: www.solarplaza.com
E-mail: e.koot@solarplaza.com
Featured Product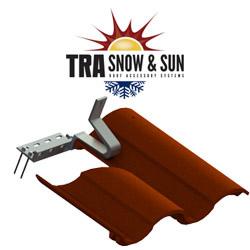 You haven't installed a tile mount that is easier to install than the Solar Tile Mount manufactured by TRA Snow and Sun. Solar Tile Mount is used on all tile roof profiles: flat, mid, and high. It is made in the USA of aluminum alloy for strength and excellent corrosion resistance. Solar Tile Mount is built to allow more ease in installation with more rise from the tile surface to the rail for better air flow below panels. The adjustable base is longer than most allowing attachment 6" to the left or right to have the bracket in the base of the pan of the tile and still fasten to the rafter. Solar Tile Mount is adjustable for counter batten systems from ¾" to 3". The horizontal rail is directly above base fasteners giving greater uplift resistance than any other system. For superior waterproofing apply TRA Snow and Sun's butyl backed VersaFlash aluminum flashing. No tile flashing is needed on top of the tile for greater labor and material cost savings.