During the 12th annual Guelph Jazz Festival, six different stages will be set with lights, amps, speakers and microphones all running on 100% wind energy donated by Selectpower - an affiliate of Guelph Hydro Inc.
At any other jazz festival, wind power typically refers to a saxophone, trumpet or clarinet. However, wind power takes on a new role during the 12th annual Guelph Jazz Festival.

The festival will take place at six different venues in downtown Guelph, Ontario: The MacDonald Stewart Art Centre, The Guelph Youth Music Centre, The River Run Centre, Old Quebec Street Mall, and St. George's Anglican Church. Each stage will be set with lights, amps, speakers and microphones all running on 100% wind energy donated by Selectpower - an affiliate of Guelph Hydro Inc.
Selectpower estimates that, combined, the festival venues will use over 8000 kWh of Selectwind; that's enough power to supply 11 houses for a month. The wind power comes from Sky Generation - a commercial wind generator located on the Bruce Peninsula.
"First we determine how much electricity will be used at each venue during the festival. Then we put the equivalent amount of Selectwind into the grid," says Shehzad Qureshi, energy manager for Selectpower. "Jazz festival performers will plug in their amps and keyboards as usual. We've put enough wind energy into the grid to offset 100% of the power they take out. In effect, the Guelph Jazz Festival is completely wind-powered."
So far this year, Ontario has experienced more than 35 smog alert days. That's a record high for the province and more smog days than the last two years combined. Coal-generated electricity causes about 25% of Ontario's smog and air pollution. Selectwind replaces electricity that would otherwise be generated by burning coal. So, by using Selectwind, the Guelph Jazz festival will prevent over 73 tonnes of Carbon Dioxide and other harmful emissions from entering the air.
"We're very excited about using wind power for the festival this year," stated festival promoter Stephen Woeller. "The festival has already earned a reputation for its unique programming and outstanding performances, and this is one more way we can take a leading role and distinguish the Guelph Jazz Festival from others in the country."
Heralded as one of the most visionary musical events in Canada, the Guelph Jazz Festival is offering an exciting program of performances, workshops and lectures. Some of this year's featured artists include: The Art Ensemble of Chicago (USA), Super silent (Norway), Satoko Fuji, Mark Dresser, Natsuki Tamura & Jim Black (Japan/USA), Lori Freedman (Quebec) and many more renowned artists from around the globe.
The festival is scheduled for September 7 to 11, 2005 and Selectpower staff will be present at key performances to answer questions audience members may have about Selectwind. "It's an opportunity to educate people about their energy choices," added Qureshi. "If we can use wind power at a festival, then the audience can use it in their homes in Guelph, Toronto, London or anywhere else in Ontario. As more people choose Selectwind we improve our air quality, we reduce our reliance on coal-generated electricity and we encourage more wind energy generation in the province."
-30-
Selectpower is an affiliate of Guelph Hydro Inc. offering Energy-Smart Solutions including: energy advice and assessments, draft proofing, Energy-STAR rated heating and air conditioning, windows and doors, wind, solar and geothermal solutions, water heaters and softeners, water saving toilets, energy-saving lighting and more.
Contact:
Stacey Hare, Marketing and Communications
Selectpower Inc.
519.780.1209 x 107
share@selectpower.ca
Stephen Woeller
Guelph Jazz Festival
519.763.9425
swoeller@appropriate.ca
www.guelphjazzfestival.com
Featured Product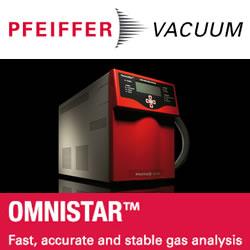 The Pfeiffer Vacuum OmniStar benchtop analysis system offers you a compact footprint, powerful software and Ethernet connectivity. It's the optimum solution for many real-time gas analysis applications. With the OmniStar, Pfeiffer Vacuum offers you a complete solution for gas analysis, in chemical processes, semiconductor industry, metallurgy, fermentation, catalysis, laser technology and environmental analysis. The turnkey OmniStar gas analysis system consists of heated, temperature-regulated gas inlet system, Quadrupole mass spectrometer, a dry diaphragm vacuum pump and HiPace turbopump. Unlike competing methods such as FTIR, OmniStar is suitable for qualitative and quantitative analysis of most gases.