To Avoid Loss of Billions in Wasted Energy Dollars
Washington, D.C., September 7, 2005 - Alliance to Save Energy President Kateri Callahan today called on the Bush Administration and the U.S. Department of Energy (DOE) to expedite long-overdue energy-efficiency standards for appliances and 16 new appliance standards required by the Energy Policy Act of 2005. This is essential if the nation is to achieve the new law's full energy-saving potential, Callahan said.

The Alliance statement came as the City of New York and 15 states sued DOE for non-implementation of regulations for 22 energy-using appliances. The plaintiffs noted that DOE is six to 13 years behind schedule and has not adopted any new appliance efficiency standards since January 2001. Pointing to the benefits of such standards, they said that by 2010, existing federal appliance efficiency standards are expected to lower electricity costs by more than $20 billion annually.
A recent analysis estimates that each additional year of delay on just three standards - residential furnaces and boilers, commercial air conditioners, and distribution transformers - will cost consumers and businesses $7 billion in higher energy bills.
"Efficiency standards move the marketplace toward products that yield greater energy savings and 'lock in' savings for the decades-long life of major appliances and equipment," Callahan said. "At this time of ever-escalating energy prices, we need to break the bottleneck at DOE and provide relief to U.S. consumers and businesses."
The Alliance noted that through 2000, existing appliance efficiency standards have reduced U.S. electricity use by 2.5 percent (88 billion kWh/year) and peak power demand by approximately 21,000 MW. By 2020, existing standards will reduce U.S. electricity consumption by 7.8 percent, cut peak demand by enough to displace 400 power plants, and avoid the release of 75 million metric tons of carbon emissions. By 2030, current standards will save consumers an estimated $186 billion - about $1,750 per household.
The Alliance to Save Energy is a coalition of prominent business, government, environmental, and consumer leaders who promote the efficient and clean use of energy worldwide to benefit consumers, the environment, economy, and national security.
Featured Product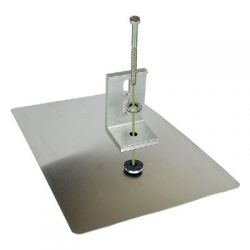 The GreenFasten™ - GF1 system utilizes the patented watertight technology EcoFasten Solar® is known for. The flashing is fit with our EPDM rubber bushing and when used with a compatible EcoFasten Solar compression bracket (milled with countersink), a watertight seal is created, which protects the integrity of the roof. Requiring just a single fastener (lag bolt or self-drilling), GreenFasten provides the fastest install in the industry and will not void roofing manufacturer's warranties. Backed by IAPMO certification, GreenFasten delivers a mounting solution for all new or existing (retrofit) composition shingle roofs, and is the most cost-effective solution available. Like all of the solar roof mount solutions in our line of products, GreenFasten is made in the USA using recycled materials.