Funding for Hydrogen Power Inc. (HPI) by Equitex (NASDAQ: EQTX)
Equitex Completes Funding for Hydrogen Power, Inc.

2005-09-19 11:45 ET - News Release
ENGLEWOOD, Colo. & WEST PALM BEACH, Fla. -- (Business Wire) -- Sept. 19, 2005
Equitex, Inc. (Nasdaq: EQTX) announced today that it has
advanced the final $2,000,000 of a $3,000,000 loan to Hydrogen Power,
Inc. ("HPI") pursuant to the previously announced definitive binding
agreement for the acquisition by Equitex of HPI through a newly formed
Equitex subsidiary. Following closing of the acquisition transaction,
HPI will become a wholly owned subsidiary of Equitex which will
control all of HPI's licensed intellectual property rights to patented
hydrogen generation technology in the United States, South America,
Mexico and Canada.
Closing of the transaction is subject to normal conditions
including approval by Equitex's stockholders in a meeting to be held
at the earliest possible time.
HPI is a Seattle-based company which has licensed a patented
technology developed at the University of British Columbia for
producing hydrogen gas in a process called Hydrogen Now(TM). The HPI
Hydrogen Now patented system creates pure hydrogen from the reaction
of aluminum and water and sea water. The process safely generates pure
hydrogen by a water-split reaction -- providing increased access to
hydrogen. Hydrogen Now can be used to generate hydrogen on-site and
on-demand without electricity thus overcoming significant
transportation and storage problems. The HPI process has the potential
to supply hydrogen at customized rates and pressures.
Equitex, Inc. is a holding company operating through its
majority-owned publicly traded subsidiary FastFunds Financial
Corporation (OTCBB: FFFC) of Minnetonka, Minnesota, as well as its
majority-owned subsidiary Denaris Corporation. FastFunds, through its
operating subsidiary Chex Services, Inc., provides comprehensive cash
access services to Native American and traditional casinos, other
gaming facilities and retail establishments. Denaris was formed to
provide stored value card services
Featured Product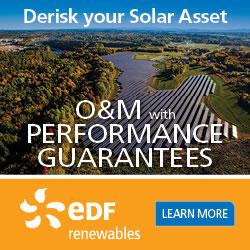 EDF Renewables offers the same innovative solutions that maximize the performance of our own 5.2 GW of installed projects. Because we're not an equipment manufacturer, our recommendations are transparent and data-driven. We cover the entire project lifecycle: from pre-commissioning support, through warranty and post warranty operation, to late stage and decommissioning.