Xantrex Technology Inc. (TSX:XTX) introduces three new solar grid tie inverters at the Solar Power 2005 Expo in Washington, DC.
ARLINGTON, WA, October 5, 2005 - Xantrex Technology Inc. (TSX:XTX) introduces three new solar grid tie inverters at the Solar Power 2005 Expo event in Washington, DC on October 6th at the Hyatt Regency Capitol Hill. Xantrex is expanding its line of solar grid tie inverters for the North American residential and commercial markets with the launch of the Xantrex GT 2.5, GT 3.3 and GT 3.3 (208 volt) Solar Grid Tie Inverters.

These Xantrex products efficiently convert direct current (DC) power from solar panels into high-quality alternating current (AC) electricity for sale to the electric grid. The new 3.3 kilowatt and 2.5 kilowatt technology is based on the 3 kilowatt Xantrex GT 3.0 Solar Grid Tie Inverter platform, which was launched in North America late last year.
The Xantrex GT 3.0 has become a popular choice for system integrators and installers in North America because of its reliability, efficiency, high power density and ease of installation. This wider product range offered by Xantrex gives system integrators and installers the ability to better meet the capacity requirements of a broad spectrum of system sizes.
"These Xantrex grid tie inverters now offer more flexibility to the residential market with a family of products at various power levels, as well as an option for the commercial market with the 208 volt model," said Mossadiq Umedaly, chairman of Xantrex. "Our solar grid tie inverters offer excellent value, performance, reliability, compactness, and ease of installation, making them a great solution for installers and solar system owners. With these new products, Xantrex expects to strengthen its position in the fast-growing US residential and commercial solar grid tie markets."
Xantrex used a disciplined approach to design the inverters, from developing specifications that meet its customers' requirements, to verification testing to ensure long life and reliability. The inverters were tested extensively with Highly Accelerated Life Test (HALT) methods to detect and address potential product design issues. Using these testing methods, the inverters were exposed to extreme thermal and mechanical conditions that went above and beyond conventional testing methods typically used by other inverter manufacturers.
The result is rugged, high-quality products that are built to withstand extreme environmental conditions. They are NEMA 3R rated for use indoors and outdoors. These inverters have California Energy Commission (CEC) efficiency ratings of 94% for the GT 2.5, 94.5% for the GT 3.3, and 94% for the GT 3.3 (208 volt). This high efficiency, combined with excellent thermal performance, helps customers improve the financial return on their solar investment by maximizing green renewable energy delivered to the utility grid.
All of this technology is incorporated into a sleek, compact design that weighs only about 50 lbs., which makes these inverters light enough to be installed by one person without assistance. This lightweight design makes installation quick and easy, thereby lowering the cost of installing the solar system. The broad DC input range, from 195 to 600 volts, and a wide photovoltaic Maximum Power Point Tracking (MPPT) range of 195 to 550 VDC, make the Xantrex inverters the perfect match for a wide variety of solar panels available from all the leading manufacturers.
Each inverter also includes an electrical code-compliant DC disconnect, a mounting plate, a wiring box, and an LCD display. All of the inverters in this product line are competitively priced and are backed with a 5-year warranty and an optional 10-year extended warranty. The new GT 2.5, GT 3.3 and GT 3.3 (208 volt) Solar Grid Tie Inverters, plus the popular GT 3.0 Solar Grid Tie Inverter will be on display at the Xantrex booth (#21) at the Solar Power 2005 Expo in Washington, DC at the Hyatt Regency Capitol Hill from October 6 - 9, 2005.
"We are excited to demonstrate these inverters at the Solar Power 2005 Expo in Washington, DC," said Andrew Riegler, Xantrex product manager for solar systems. "This is the biggest North American tradeshow for solar energy, and the perfect venue to showcase Xantrex's expanded product line of grid tie inverters for the solar market. This is also a great opportunity to provide training to our partners who will sell and install these systems."
About Xantrex
Xantrex Technology Inc. (www.xantrex.com) is a world leader in the development, manufacturing and marketing of advanced power electronic products and systems for the distributed, mobile and programmable power markets. The company's products convert raw electrical power from any central, distributed, or backup power source into high-quality power required by electronic and electrical equipment. Headquartered in Vancouver, British Columbia, the company has facilities in Arlington, Washington; Livermore, California; Elkhart, Indiana; Barcelona, Spain; Beijing, China; and Reading, England.
Note that this news release contains forward-looking statements related to Xantrex Technology Inc. Such statements reflect the current views of Xantrex with respect to future events and are subject to risks and uncertainties that could cause actual results to differ materially from those contemplated in these forward-looking statements.
Media Contact:
Cathy Gibson
Xantrex Technology Inc.
604.422.2589
cathy.gibson@xantrex.com
Featured Product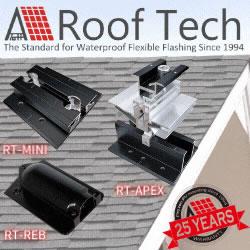 These ongoing webinars cover Roof Tech's background, product design (RT MINI and APEX), code and best practices. You will learn about a proven system that reduces installation time while keeping the integrity of the roofing system. This training will earn you one NABCEP Continuing Education Credit. The webinars are offered every Tuesday from 11 AM PDT to Noon during the months of April and May, 2020.