Project on Schedule for Full-Scale Production by Summer of 2006
THALHEIM, Germany--(BUSINESS WIRE)--Oct. 11, 2005--Evergreen Solar, Inc. (Nasdaq: ESLR), a manufacturer of solar power products with its proprietary, low-cost String Ribbon(TM) wafer technology, today celebrated the "roof closing" of the 30-megawatt solar wafer, cell and module manufacturing plant in Thalheim, Germany. The plant is being constructed by EverQ, a strategic partnership between Marlboro, Massachusetts-based Evergreen Solar, Inc. and Thalheim-based Q-Cells AG, the world's largest independent manufacturer of crystalline silicon solar cells.

"Today's roof closing ceremony - a milestone traditionally recognized in Germany - marks the next stage of development for the EverQ facility," said Richard M. Feldt, president and chief executive officer of Evergreen Solar. "We are pleased with the substantial progress made in Thalheim. We anticipate installing our first pieces of manufacturing equipment in the facility by year-end. Based on the current schedule, we remain confident that we will achieve our goal of full-scale production by the summer of 2006."
The German government is providing EverQ with grants totaling approximately $34 million at current exchange rates to offset the manufacturing facility construction costs. The cost of the 30-megawatt factory is expected to be $75 million.
At 30 megawatts, the plant is expected to create between 350 and 400 new jobs in Thalheim, which is located approximately 80 miles from Berlin. Based on the initial success of the facility, Evergreen Solar and Q-Cells will evaluate the possibility of expanding the facility from 30 megawatts up to 120 megawatts of capacity.
About Q-Cells AG
Established in 1999, Q-Cells is one of the world's largest solar cell manufacturers in terms of production output and is the largest group-independent manufacturer of crystalline silicon cells in the world. Its core business is the development, production and marketing of high-quality mono- and polycrystalline photovoltaic cells.
Since commencing production in 2001, Q-Cells has grown rapidly and now employs more than 700 people at its site in Thalheim, Saxony-Anhalt. Q-Cells has constantly developed its product portfolio and the performance of its cells as well as its technological production processes. Furthermore, Q-Cells is developing additional important technologies through partnerships for the commercialization of these technologies.
About Evergreen Solar, Inc.
Evergreen Solar, Inc. (Nasdaq: ESLR) develops, manufactures and markets solar power products using the Company's proprietary low-cost manufacturing technologies. The products provide reliable and environmentally clean electric power in global markets. Solar power applications include complete power systems for electric utility customers choosing to generate their own environmentally benign power, as well as wireless power for remote homes, water pumping, lighting and rural electrification. For more information, visit www.evergreensolar.com.
Featured Product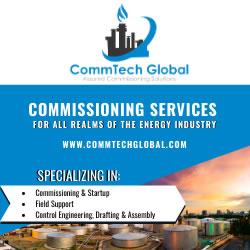 CommTech Global Solutions, LLC, provides professional and reliable commissioning services to customers in all realms of the energy industry. We blend our skills in engineering and technology with innovative business models, offering a complete range of services to assist you for a successful and in compliance operational startup. Consolidation of all our service domains gives our clients a comprehensive set of expertise and far-reaching experience on each project.