No More Gas Pains for E-Max Electric Scooter Owner - David Wiley sold his car and now rides his E-Max electric scooter to work. It's no secret - E-Max electric scooters are fun, fast and extremely economical. Whisper quiet. Low maintenance. Zero emissions.
David Wiley has found a great new way to relieve 'gas pains'. David sold his car in August and has since used his E-max electric scooter and an electric-assist bicycle to travel to and from work.

"I just wanted to go electric to do something more environmentally friendly," he said.
Wiley said one of the biggest reasons he decided to make the transportation shift was to reduce expenses and consume fewer natural resources.
The choice of vehicle that you drive has a greater effect on the environment than any other choice you make as a consumer - Union of Concerned Scientists.
Watch an 'e-max in action' video (12MB) filmed in sunny San Diego, California. E-Max scooters can easily accelerate to speeds of up to 40 mph and will cover a 35-40 mile range on a single charge of their environmentally safe silicone batteries.
Whisper quiet. Low maintenance. Zero emissions. No fuel. Why not make your 'second car' and E-Max. Available in Silver, Blue, Red, Dark Red, Black, Pink, and Yellow. Just $2850.
Ample power, good range, fair price, get going! Switch gears and/or find out more today.
Featured Product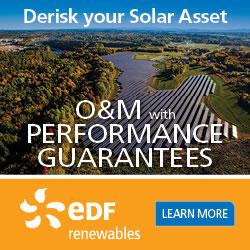 EDF Renewables offers the same innovative solutions that maximize the performance of our own 5.2 GW of installed projects. Because we're not an equipment manufacturer, our recommendations are transparent and data-driven. We cover the entire project lifecycle: from pre-commissioning support, through warranty and post warranty operation, to late stage and decommissioning.