"Renewables" follow-up conference 7 to 8 November 2005 in Beijing
The German Environment Minister, Jürgen Trittin, and the German Development Minister, Heidemarie Wieczorek-Zeul, have welcomed the official announcement by the Chinese government to hold an international conference on promoting renewable energies from 7 to 8 November 2005. The "2005 Beijing International Renewables Conference" will become one of the most important international events this year for enhancing renewable energies

The German Environment Minister, Jürgen Trittin: "With the implementation of its programme of action announced at the 2004 conference in Bonn and the organisation of this conference, China underlines its active role in promoting renewable energies."
The German Development Minister, Heidemarie Wieczorek-Zeul: "The announcement is evidence of the importance which renewable energies have acquired not only for industrial but also for developing and transformation countries."
Both German ministers wish to support China in organising the conference in Beijing. The conference is designed as a follow-up conference to 'renewables 2004' which had been organised by Germany last year in Bonn. In June 2005 already, the Renewable Energy Policy Network for the 21st Century, REN21, was officially established. The conference will address in particular the current stage of the global expansion of renewable energies, the options regarding a control mechanism and reporting system for the International Programme of Action, and also the transfer of technology. The range of participants should comprise all UN member states, with international organisations, non-governmental organisations and the private sector also attending.
The conference is an important landmark in further developing international cooperation to enhance renewable energies and serves to prepare the UN negotiations of the Commission for Sustainable Development which will be forthcoming in 2006.
Featured Product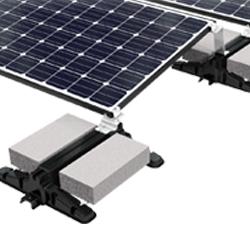 The Power Rail™ Commercial Mounting System is designed with the professional PV solar installer in mind. Both the XD/UD and LD/MD rails feature single tool assembly with the revolutionary patented RAD™ Lock-in-Place bolt for fast and secure module clamping. The high strength marine-grade aluminum rails include an integral wiring channel for securing cables and providing a professional finish.