Affordable Web Hosting thats environmentally friendly & has unsuppressed support. Affordable Internet Services Online Inc.(www.aiso.net) in Romoland, California uses 120+ solar panels, solar tubes, AMD Opteron processors & more; to combat high energy bills and help the environment at the same time.
AISO.Net (http://www.aiso.net) builds a new data center in Romoland, CA. Our state of the art data center took 6 months to build. The new data center is completely solar powered by the use of 120+ solar panels, which are ground mounted. AISO.Net has been using solar panels since 2002 to power its data center, but wanted a data center redesign for a stronger commitment to help fight pollution and preserving our natural resources. The building is complete with solar tubes, which bring in natural light from the outside. Each tube replaces 300 watts worth of electric lamps for 5 hrs./day, 5 days/week.

Our data center interior is completely built using steel studs. We felt this would be the most responsible construction method keeping with our green philosophy. The building has several layers of insulation, which gives us an R-value equal to R 50. This high R-value keeps the cool air in and the hot air out, therefore reducing the amount of energy necessary to run our data center.
Cooling, or lack of it is becoming an increasingly common cause of equipment failure, so AISO.Net has installed APC Air Distribution and Removal Units in each of its server racks. The APC units have Automatic fan speed adjustment based on temperature and leads to greater energy efficiency. The APC Air Distribution units are fan coolers designed to draw cold air from outside of the rack into the rack-mounted equipment. The APC Removal Units on the back of the server racks sucks heat away from the rack mounted equipment into ducting which leads out of the data center, creating less load on the data center cooling systems.
The data center is fully fenced and is monitored 24 hours per day, seven days per week. The property has a state of the art alarm and monitoring system, which is monitored and recorded offsite, by our security staff. We can monitor any room anytime as well as the complete premises and servers via a dedicated Internet connection directly thru our monitoring system.
We have a backup generator that runs on natural gas. The generator is for emergency use only and is tested daily. Our cooling system is built by Maytag and is energy star compliant. We have 2 different cooling systems, which are redundant and are serviced monthly.
Redundant Environmental monitors by APC are used to monitor various areas of our server room. The environmental monitoring system checks to make sure the humidity level and cooling level are maintained. In case of a cooling issue our support staff is notified immediately. This ensures all servers are maintained in a cool environment, which will prolong the life of the servers.
High End Rack Mount AMD Opteron powered servers help us provide a high level of efficiency while keeping our energy level to a minimum, and include RAID 5 Redundant Hard Drives and Redundant Power Supplies that are backed up nightly 7 days per week to our redundant gigabit NAS servers. By choosing AMD Opteron processors for our servers, we have dropped our energy consumption by 60%. AMD Opteron processors generate 50% less heat than conventional processors, which reduces heat related failures.
Thousands of clients worldwide rely on AISO.net to provide a green hosting solution, which is environmentally friendly. We cater to a client base that cares about the environment and the future of our planet. Hosting clients from Australia, South Africa, Sweden, Europe, Canada, Thailand, United States and other countries rely on us to keep their websites online, 24 hours per day.
Our company has been featured in Wired(http://www.wired.com/news/planet/0,2782,67785,00.html) and Entrepreneur(http://www.entrepreneur.com/mag/article/0,1539,324100,00.html) magazines.
Featured Product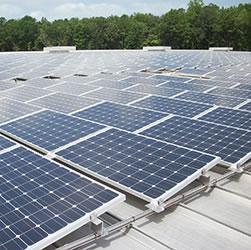 The Power Rail™ Commercial Mounting System is designed with the professional PV solar installer in mind. Both the XD/UD and LD/MD rails feature single tool assembly with the revolutionary patented RAD™ Lock-in-Place bolt for fast and secure module clamping. The high strength marine-grade aluminum rails include an integral wiring channel for securing cables and providing a professional finish.