New HOBO® FlexSmart' logger accepts vast array of sensors via snap-in modules, simplifies energy monitoring applications
BOURNE, MA, September 15, 2005 - Onset Computer Corporation, a world leader in battery-powered data loggers, today released the HOBO FlexSmart logger, a new modular, reconfigurable data logging system.

Designed in conjunction with Architectural Energy Corporation, a national leader in building energy efficiency products and services, the FlexSmart logger enables energy and facility management professionals to easily solve a broad range of energy and industrial monitoring applications without having to purchase a toolbox full of loggers and sensors.
Innovative, snap-in signal conditioning modules convert signals from nearly any type of sensor, and powerful software makes set-up and deployment fast and easy.
"Today's energy professionals want to be able to connect any type of sensor the job calls for without sorting through a box full of loggers or spending countless hours programming a system," said Mark McSherry, president of Onset. "The FlexSmart logger's flexible, open-ended architecture makes it instantly compatible with just about any sensor out there, making it an ideal 'all-in-one' monitoring tool that can be easily modified or expanded as requirements change from job to job."
Michael Holtz, president of Architectural Energy Corporation, said FlexSmart meets the data collection needs of energy service companies, commissioning agents, utility companies, engineering firms and others who require a low-cost, accurate and flexible data acquisition system," "Our collaboration with Onset has allowed us to continue our commitment to provide exciting new products for the energy and building marketplaces."
Reconfigurable FlexSmart input modules, which easily snap into the logger, greatly simplify the process of connecting a wide range of Onset and third-party sensors. System measurements include True RMS AC current and voltage, power demand (kW) and energy consumption (kWh), differential air pressure, pulse and contact closure, gauge pressure, as well as plug-and-play sensors for measuring temperature, relative humidity, and other environmental conditions. Once a sensor has been connected to a module and configured using Onset's easy-to-use HOBOware' software, the settings for that sensor are stored into the module's memory. This allows the logger to automatically recognize the sensor the next time it is used.
The FlexSmart logger provides high-accuracy measurements, offering
+/-0.25% full-scale accuracy over 0-20mA and 0-20VDC ranges, and
+features
12-volt sensor excitation power with programmable warm-up times. It also accepts external power, has a large 512K memory for long-term or fast-sampling deployments, and is housed in a rugged case designed for industrial environments.
PRICING AND AVAILABILITY
The HOBO FlexSmart Logger, which is available immediately from Onset and Architectural Energy Corporation, is priced at $299. Two-channel FlexSmart Analog and True RMS modules are priced at $85 and $90 respectively.
Please visit http://www.onsetcomp.com/hobo for more detailed production information and pricing.
ABOUT ONSET COMPUTER CORPORATION
Onset Computer Corporation has been producing small, inexpensive, battery-powered data loggers and embedded controllers since 1981, and has sold over 900,000 loggers that are used throughout the world by over 40,000 customers. The company manufactures a broad range of data logger and weather station products that are used to measure temperature, humidity, light intensity, voltage, and a broad range of other parameters.
Onset products are used in a wide range of energy management, research, commercial, industrial, and educational applications.
ABOUT ARCHITECTURAL ENERGY CORPORATION
Founded in 1982, AEC is an interdisciplinary, privately held engineering and sustainable design firm concerned with energy, buildings, and the environment. The company has been producing battery-powered data loggers for the energy services market since 1992. The mission of AEC is to hasten the transition to a sustainable economy by assisting its clients to improve the energy efficiency, environmental responsiveness, and use of daylighting and renewable energy in their new and existing buildings. AEC employs approximately 65 people and has offices in Boulder, San Francisco, and Chicago. Please visit http://www.archenergy.com for more information.
Featured Product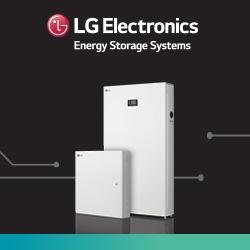 LG Solar is transforming today's solar landscape, offering precision-manufactured and high-efficiency solar panels for homeowners who demand high performance, reliability and consistently strong energy yield from a brand they can trust. LG modules feature outstanding durability, appealing aesthetics and high-efficiency technology, backed by a limited 25-year product, performance and labor (up to $450) warranty. Homeowners who purchase LG Solar modules know they're protected by a diversified global brand.