Xantrex Technology Inc. is proud to supply a solar inverter to the 2005 Lights of Hope campaign. The inverter is part of a unique solar system powering LED lights on a tree outside of a Vancouver hospital this holiday season.
VANCOUVER, BC, November 30, 2005 - Xantrex Technology Inc. (TSX:XTX) is proud to partner with Canadian Tire Corporation, BC Hydro Power Smart, and St. Paul's Hospital to support the 2005 Lights of Hope campaign.

The Lights of Hope fundraising initiative helps St. Paul's Hospital in Vancouver, BC purchase equipment, support research and improve patient care. This year the campaign focuses on raising funds for heart treatment, palliative care, surgery and research.
Every year, a huge light display is set up outside of the urban hospital to raise awareness of the campaign, and a large tree is part of the display. This year, the Power Smart tree is illuminated by 90 strings of LED lights, which are powered by a unique solar system. The system includes five photovoltaic (PV) solar panels, and a Xantrex 1000 watt solar inverter.
The Xantrex inverter converts the direct current (DC) power collected by the solar panels into high-quality alternating current (AC) electricity used to power the LED lights on the tree. The solar array, inverter and battery bank are installed on the roof of the hospital to capture sunlight during the day and power the LED lights on the tree after dark. The functionality of this solar power system demonstrates the viability of renewable energy for a diverse range of applications.
Xantrex and BC Hydro technical experts worked together to test and install the system, ensuring effective operation during the holiday season.
About Xantrex
Xantrex Technology Inc. (www.xantrex.com) is a world leader in the development, manufacturing and marketing of advanced power electronic products and systems for the distributed, mobile and programmable power markets. The company's products convert raw electrical power from any central, distributed, or backup power source into high-quality power required by electronic and electrical equipment. Headquartered in Vancouver, British Columbia, the company has facilities in Arlington, Washington; Livermore, California; Elkhart, Indiana; Barcelona, Spain; Beijing, China; and Reading, England. Xantrex is publicly listed on the Toronto Stock Exchange under the ticker symbol "XTX".
Note that this news release contains forward-looking statements related to Xantrex Technology Inc. Such statements reflect the current views of Xantrex with respect to future events and are subject to risks and uncertainties that could cause actual results to differ materially from those contemplated in these forward-looking statements.
Media Contact:
Cathy Gibson
Xantrex Technology Inc.
604.422.2589
cathy.gibson@xantrex.com
Featured Product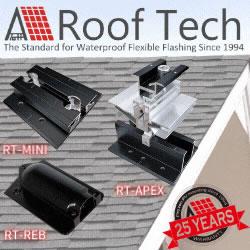 Now Roof Tech brings you the most innovative, watertight mounting systems ever developed for solar photovoltaic systems. Designed and manufactured exclusively for us by Japan's longtime leader in roofing technologies, Roof Tech products are 100% code-compliant and offer fast, simple installation and huge savings on shipping costs due to their compact, rail-less design. Learn more about our full line of versatile PV mounting solutions now available for residential installations. The next generation in rooftop solar mounting solutions."