The PV Business Tour Spain (14-18 November) turned out to be a success for both the international delegates (from China, USA, Switzerland, Netherlands) and the visited Spanish PV companies.
The PV Business Tour Spain (14-18 November) turned out to be a success for both the international delegates (from China, USA, Switzerland, Netherlands) and the visited Spanish PV companies. During the brokerage event on the first day in Madrid, participants met with about fifteen Spanish market players. The company visits and presentations during the week gave an interesting picture of Spanish market developments from different perspectives. The symposium on large project developments held in Pamplona made it clear that more than 100 MW projects could be built if module supply would be sufficient in Spain next year. In total, participants came into contact with over 25 different Spanish PV companies, the governmental organisation IDAE and the branch association of electrical installers.

The module shortage is an enormous "problem" and is interrupting the steep growth of the Spanish market. The most important market segment is still the development of large solar farms. Most Spanish companies focus on this market segment with 100 kW systems as part of a larger project or with tracking systems (5-8 kW) for private investors. The major companies developing these large scale projects (solar farms) expect that total sales in Spain will be around 40 MW in 2006. Just these major players on their own could sell 100 MW and more in 2006 if solar modules were to be available without even having to consider serious marketing activities. In view of the far better financial yields (10% guaranteed during 25 years) that Spain provides, we wonder why German companies would still consider putting their modules in German projects in 2006. IDAE and Spanish companies told the delegates that a first evaluation of the lucrative Spanish feed-in tariff (through a Royal Decree) can be expected in 2006 though changes in the tariff itself are still uncertain. It is, however, quite certain that the additional investment subsidies that "sold out" within one week in 2005 will be dropped.
One of the barriers to PV project development in Spain is the administrative route that must be followed to obtain the necessary permits from the autonomous regions and the energy utility companies. It may take up to anything between 9 and 18 months to develop a large scale project. Contacts with the local major, regional government and with the local energy utility company are needed to obtain a connection point to the grid. Permits and legislation can differ per region. Partnership with a Spanish company that is active in the relevant region is almost a necessity to get permits and projects implemented for international companies.
Altogether, the Spanish market is still young but has great potential. The status of the present development could be considered the same as the German market 6 years ago. Looking at the position and size of the companies that took part in the PV tour, now is an ideal moment to step into this market. Delegates benefited from this event to make the first fruitful contacts for further collaboration. They also turned the different cultural aspects of this country to their advantage with sumptuous and delicious meals. As to be expected, the informal parts of the tour created even stronger bonds between delegates and their Spanish counterparts.
Delegates and the organiser SolarPlaza alike have shown to be fully satisfied with the results of the Spanish PV tour and, therefore, a repeat event next year is very likely to happen. The SolarPlaza team is organising a PV business tour to China in April 2006 in the shorter term. SolarPlaza is expecting an update of the Spanish market report by March 2006.
More information can be obtained from:
SolarPlaza International
Edwin Koot (President)
e.koot@solarplaza.com
Tel. +31 10 2809198
SolarPlaza Spain (Madrid)
Bart Goossens
spain@solarplaza.com
Tel. +34 91 767 2872
Featured Product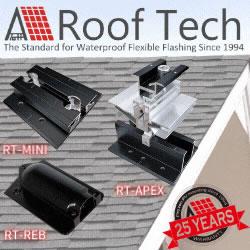 Now Roof Tech brings you the most innovative, watertight mounting systems ever developed for solar photovoltaic systems. Designed and manufactured exclusively for us by Japan's longtime leader in roofing technologies, Roof Tech products are 100% code-compliant and offer fast, simple installation and huge savings on shipping costs due to their compact, rail-less design. Learn more about our full line of versatile PV mounting solutions now available for residential installations. The next generation in rooftop solar mounting solutions."