Largest Hybrid Solar-Wind Power Plant in US
ATLANTIC CITY, NJ, December 12, 2005 - Atlantic County's wastewater treatment plant will be the first in the United States to be powered by a system that combines solar energy arrays with a wind farm. By capturing energy from the sun and the Atlantic Coast winds, rather than burning fossil fuels, the hybrid solar-wind power plant will produce enough energy to power the equivalent of approximately 3800 homes and displace the need for an estimated 24,000 barrels of oil per year.

The new power plant, to be dedicated December 12th by the Atlantic County Utilities Authority (ACUA), is also one of the largest hybrid solar-wind power plants in the world. The 8 megawatt (MW) hybrid solar-wind power plant will generate an estimated 40,800,000 kilowatt hours of clean electricity annually.
"This is a considerable achievement for the people of New Jersey," said Kurt Conti, CEO of Alternity Power, the project's solar engineering and construction firm, "Residents and visitors to Atlantic County and Atlantic City will secure all the benefits of a technologically advanced water treatment plant, while the greenhouse gas emissions usually associated with a plant of this size are dramatically reduced."
"The ACUA has committed itself to researching alternative ideas that not only help save money on electric bills, but also provide a clean, renewable source of energy." said Richard Dovey, ACUA President. "We are very proud to host New Jersey' first wind farm and have the state's second largest solar project, but we are thrilled to be the nation's largest hybrid solar-wind plant."
The solar energy system portion of the hybrid solar-wind power plant consists of two rooftop photovoltaic (PV) arrays, one carport mounted PV array, and two PV arrays located on the ground. Altogether, the solar energy system's 2700 modules will produce enough energy to power the equivalent of approximately 80 homes and displace the need for 375 barrels of oil per year. All of the electricity generated by the solar energy system will be supplied directly to ACUA's wastewater treatment facility and should provide between two and three percent of the energy required by the facility.
"The forward-thinking folks at the ACUA - who had many energy options to choose from - chose the most environmentally friendly and most energy efficient way to power this plant," Conti said. "The ACUA has demonstrated that current technologies enable large scale plants powered by renewable energy to function just as well, if not better, than plants powered solely by fossil fuels."
The entire solar energy system will cost $3.25 million and is supported by a $1.9 million rebate from the New Jersey Board of Public Utilities Office of Clean Energy and a low-interest loan from the New Jersey Environmental Trust. The ACUA expects an average savings of $135,000 a year from the solar energy system, as a result of both reduced energy costs and the sale of Solar Renewable Energy Certificates (SRECs) generated by the system.
Complex Project Requires Innovative Engineering
Alternity Power, the renewable energy division of The Conti Group, utilized its solar and civil engineering expertise to install the solar energy system. For instance, after evaluating landfill and shoreline stability as well as permitting issues, Alternity Power and the ACUA worked together to create a cost-effective plan on where to best locate the solar arrays. In addition, after conducting a study of wind speeds and soil at the site, Alternity Power developed a unique, customized design for the foundation of the carport to ensure it provided enough stability to handle the 115 Mph winds that might hit the site in the case of a major storm or hurricane. Alternity Power also installed a solar energy metering and monitoring system that will record the total output of the solar arrays and alert the ACUA if any data deviations indicate a problem with one of the arrays.
"Only time will tell," said Conti. "But if this plant's unique combination of solar and wind power is as successful in reducing carbon emissions as we plan it to be, then what we're seeing here might well be a model for the rest of the country."
About Alternity Power:
Alternity Power provides socially responsible corporations and communities with solar, wind, bioenergy and geothermal energy solutions that are cost-effective and environmentally friendly.
Headquartered in South Plainfield, New Jersey, Alternity Power is a division of The Conti Group, one of the leading large-scale civil construction, environmental remediation, infrastructure and homeland security companies in the country. It draws upon its parent's extensive background in environmental projects, knowledge of state and local ordinances, and design and engineering expertise as it develops and delivers on-site renewable energy generation solutions to its customers.
Featured Product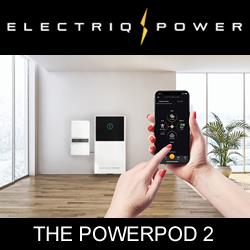 The Electriq PowerPod 2 is a fully-integrated home energy storage, management, and monitoring system powered by LFP batteries. The high-performance, cobalt-free product includes a hybrid solar/battery inverter controlled by intelligent software. The PowerPod 2 provides backup power and can self-consume or export excess power back to the grid.