ePower Synergies of Cordova, Ill., working with the Resurfice Corporation of Elmira, Ontario, Canada and North Dakota's Energy & Environmental Research Center (EERC), have developed a functioning prototype for the next generation of zero emission ice refinishers.
16724 River Road North

Cordova, Illinois 61242-9798 USA
--------------------------------
Phone: 309.654.9299
Fax: 309.654.9299
Email: BEWood@ePowerSynergies.com
www.ePowerSynergies.com
ePower Synergies announces world's
First fuel cell powered ice resurfacer
Vancouver, BC , December 6, 2005 - The first-ever hydrogen fuel-cell powered ice resurfacer - a machine that smoothes the surface of ice skating and hockey rinks - is making its Canadian debut today in the home of the 2010 Winter Olympics, Vancouver, British Columbia.
ePower Synergies, Inc. announced today that the eP-ICEBEAR will be the centerpiece of its display at the Electric Drive Transportation Association EDTA exhibition being held at Canada Place in Vancouver. This emissions-free hydrogen fuel cell-powered ice resurfacer was first unveiled in November in North Dakota, which some call "home" to American ice hockey. The eP-ICEBEAR ice resurfacer is ideal for indoor use due to its powertrain that produces only water as an emissions byproduct.
The eP-ICEBEAR was developed by ePower Synergies, Inc., a Cordova, Illinois-based company that creates transportation systems for communities utilizing clean, sustainable energy systems, along with the Resurfice Corporation of Elmira, Ontario, Canada, manufacturer of Olympia and ICEBEAR brand ice refinishers, and the University of North Dakota Energy and Environmental Research Center (EERC).
"We think it is very appropriate to have the Canadian debut of the eP-ICEBEAR in Vancouver, to support the aim of the Vancouver Olympic Committee to have a clean and sustainable Olympics," said Bruce Wood, president of ePower.
"This development of a near-commercial ice refinisher underscores the fact that the technology is ready, the hydrogen is available and companies are developing products for commercialization. Plus, it's great to bring this revolutionary machine to the home of both the polymer electric membrane (PEM) fuel cell and the 2010 Winter Olympics," Wood said
"We are very proud that our Ice Bear is the first to use a hydrogen fuel cell," said Andy Schlupp, president of Resurfice. "It's a no-compromise, high-performance machine with no harmful exhaust. We also have the strong possibility of a near-term commercial sale."
Tom Erickson, associate director for research at the EERC, said, "This project is an excellent opportunity to showcase the vast expertise the EERC has in hydrogen technologies. We are working with Kraus Global, Inc., of Manitoba to supply the portable hydrogen re-fueling station for the eP-Ice Bear."
Gerald Groenewold, EERC Director, said the EERC's National Center for Hydrogen Technologies is the "cornerstone" of its hydrogen efforts. "We currently have $8 million in federal funds, which is leveraged by numerous private sector partners to support the development of technologies for hydrogen production and fuel cells," Groenewold said.
Other project partners include the hybrid electric drive systems company and ePower partner HyMotion; based in Concord, Ontario, Calgary, Alberta-based Dynetek Industries, Ltd., the supplier of the hydrogen storage tank; Nuvera Fuels Cells of Cambridge, Mass.; and the U.S. Department of Energy National Energy Technology Laboratory and the EERC, which is leading the demonstration and will provide technical and logistical services.
-END-
Contacts:
ePower Synergies: Michael Coates/Mightycomm, 408-399-9081, mcoates@mightycommunications.com; Amy Nielsen, VP Communications, 309-654-9299 AmyNielsen@frontiernet.net
RESURFICE: Lisa Schlupp, (519) 669-1694. LSchlupp@resurfice.com
EERC: Derek Walters, Communications Manager, 701-777-5113, dwalters@undeerc.org.
Featured Product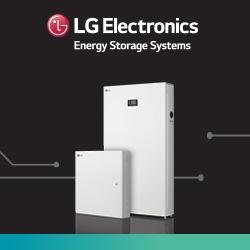 The NeON R module features "Back Contact" cell technology delivering an entirely black panel that is aesthetically pleasing and energy efficient. The cell's seamless, surface blends perfectly into nearly all rooftop designs while the module's electrodes are positioned on the rear of the cell. Using LG's N-type cell structure, the panels produce 365W of energy, up to 7.3kWp, compared to 5.8kWp of the p-type cell. The module's new design minimizes LID, thereby delivering a longer lifespan and increased energy output.