The "PV Business Tour China 2006" is currently being organised to be held from 9 to 15 April 2006. The focus of this international PV trade mission is to meet with the Chinese manufacturers of solar grade silicon, wafers, cells, modules and other PV components.
The "PV Business Tour China 2006" is currently being organised to be held from 9 to 15 April 2006. The focus of this international PV trade mission is to meet with the Chinese manufacturers of solar grade silicon, wafers, cells, modules and other PV components.

The purpose of the tour is to provide participants with an opportunity to assess and explore business opportunities with Chinese companies and in the Chinese market. The programme is fully organised with room for informal meetings and includes stays in 4-star hotels and all travel arrangements. Business owners, entrepreneurs and executives interested in developing partnership networks and to discover collaboration and market opportunities are very welcome to join the trade mission.
Company visits to the major manufacturers are a part of the 5-day tour programme. Participants will meet many Chinese market players during brokerage events in Beijing and Shanghai. A dedicated symposium on the topic of Chinese solar grade silicon and wafer production will also be organised. The major players in this market segment will present their experiences and future plans.
SolarPlaza is responsible for the organisation. Thanks to the contributions made by different organisations, they have been able to set the all-inclusive fee for the tour at € 3,750. All persons interested in experiencing and exploring China and its solar business opportunities can register. The details of the complete programme of this unique international trade mission and a registration form are available on our website: www.solarplaza.com , the global solar PV marketplace for trade and information.
Companies interested are advised to respond quickly since the number of delegates will be limited as will be the availability of flights to Beijing. Participants must also apply for a visa.
Programme
Included in the 5-day programme are four visits to the leading wafer, cell and module manufacturers. Presentations by governmental organisations, the industry association and experienced Chinese companies will provide detailed domestic market information. All major Chinese PV companies and those interested in (starting) OEM activities will be invited to join the brokerage event on the first day in Beijing that will end with an informal dinner. Companies will be given the opportunity to present themselves in 3 minutes to enhance further efficient contacts and one-on-one meetings.
All major PV companies in and around Shanghai will be invited to attend the brokerage event on the last day of the tour. Shanghai recently presented a 100,000 solar roof plan, the largest grid-connected PV initiative in China so far.
The symposium on "Solar grade silicon and wafer production" is planned for the 4 th day with presentations of at least 3 of the leading manufacturers. With the current shortage of solar grade silicon, several new companies have started activities and others have presented ambitious growth plans. This symposium will end with an informal dinner. The programme offers extensive networking possibilities and time to discover China's exciting cities, Beijing and Shanghai, by night.
Market expectations
The Chinese PV industry is growing rapidly with many new entrants. The ambition of the Chinese PV industry is to grow with about 400% in the coming 5 years. Currently, China is the world's third country in terms of solar cell production capacity with more than 20 manufacturers. The domestic solar PV market is expected to grow by at least 40% in 2006. Similar growth figures can be expected for the following years. The new Renewable Energy Law (REL) became effective as of 1 January. The Chinese government has set a PV goal of 450 MW of installed capacity by 2010. Industrial activities are stimulated by tax incentives and other benefits, which provide a good foundation for further growth. Recently the SolarPlaza report "The Chinese PV Market and Industry" showed that it will be likely that the Chinese PV industry will dominate the global market within 5 years.
About SolarPlaza
www.SolarPlaza.com is the global PV marketplace that offers a range of services to improve efficiency for all players involved in the PV supply chain. The "PV Business Tour China 2006" is the successor of a similar trade mission to Spain last year. SolarPlaza is planning to organise this Spanish tour once again in June 2006. More information about these business tours and market reports can be found if you visit www.solarplaza.com. This website is provided in 4 languages and you can access information about 4,000 international PV companies and their PV products, plus an international Trading Floor where PV products are offered and traded. The mission of SolarPlaza is to connect the market, both with regard to PV businesses and customers. SolarPlaza distributes a free e-mail newsletter (SUN) to about 11,000 people involved in the solar industry worldwide and works with an international network of partners.
Contact: Edwin Koot, President, SolarPlaza, +31 10 280 9198 or e.koot@solarplaza.com
Featured Product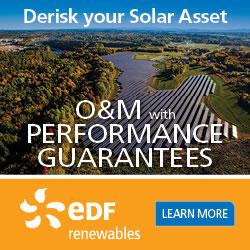 EDF Renewables offers the same innovative solutions that maximize the performance of our own 5.2 GW of installed projects. Because we're not an equipment manufacturer, our recommendations are transparent and data-driven. We cover the entire project lifecycle: from pre-commissioning support, through warranty and post warranty operation, to late stage and decommissioning.