Xantrex Technology Inc. is helping to power an entire remote village in Israel using solar electric power.
BARCELONA, SPAIN, February 8, 2006 - Xantrex Technology Inc. (TSX:XTX) is helping to power an entire remote village in Israel using solar electric power.

Darijat Village in the Negev Desert has no access to utility power, so until now it has relied on noisy generators that cost the village approximately US $350,000 a year for only four hours of electricity a day.
Now a multipurpose solar electricity system has been installed that will eventually provide the entire village with solar power. The first phase of the system was installed in late 2005 by Interdan Ltd., and it includes 22 Xantrex inverters and solar charge controllers. The Xantrex solar charge controllers convert the raw direct current (DC) energy collected by the solar panels into DC power to charge a battery bank and the Xantrex inverters convert the battery power into alternating current (AC) electricity for household use. The Xantrex inverters and solar charge controllers are able to run multiple electric home appliances and lighting simultaneously without the noise or emissions of a fossil fuel generator. This has a positive impact on the village inhabitants and their environment.
"This project aligns with the Xantrex mission to improve the quality of life for people around the world by providing them with clean, efficient, usable power anytime, anywhere," said John Wallace, Xantrex CEO.
The first phase of the system provides power to 20 houses, the village school, the mosque and streetlights. The Negev Development Authority and Ministry of Infrastructure are financing the project, and plan to eventually have all 95 homes in the village connected to the solar electric system. The system installer believes other villages should follow this initiative.
"This is just the beginning," said Gil Nezer, Interdan Marketing Director. "Darijat Village is an example of our capability to provide solar systems to generate electricity for entire remote communities. The mission of this village is to be a sustainable model that can be replicated to help the development of remote villages around the world."
The first phase of the solar system is integrated with the existing generator network to allow for backup and supplemental power to the village. The functionality of this off-grid solar power system demonstrates the viability and importance of renewable energy for a diverse range of applications.
About Interdan, Ltd.
Interdan, Ltd. has been a leader in the renewable energy and mobile power fields in Israel since 1984 as a distributor of components and a designer and supplier of systems. Interdan has been promoting the application of renewable energy systems including solar photovoltaic (PV) and wind power. It is also a leading supplier of mobile power solutions including inverters, chargers and controllers of the highest available standards. Complete service is provided by Interdan's technical department, including after-sale support and technical assistance.
About Xantrex
Xantrex Technology Inc. (www.xantrex.com) is a world leader in the development, manufacturing and marketing of advanced power electronic products and systems for the renewable, portable, mobile, and programmable power markets. The company's products convert raw electrical power from any central, distributed, or backup power source into high-quality power required by electronic and electrical equipment. Headquartered in Vancouver, British Columbia, the company has facilities in Arlington, Washington; Livermore, California; Elkhart, Indiana; Barcelona, Spain; and Reading, England. Xantrex is publicly listed on the Toronto Stock Exchange under the ticker symbol "XTX".
Note that this news release contains forward-looking statements related to Xantrex Technology Inc. Such statements reflect the current views of Xantrex with respect to future events and are subject to risks and uncertainties that could cause actual results to differ materially from those contemplated in these forward-looking statements.
For further information, please contact Raquel Espada at 011-34-93-556-0972 or
Raquel.espada@xantrex.com
Featured Product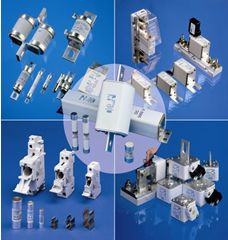 SIBA Fuses: your trusted source for all your circuit protection applications, from solar power to wind power. We are the world leaders in these applications and the most trusted name for your circuit protection needs. We have been working for over 70 years in semiconductor fuses, including ULTRA RAPID®, medium, and high voltage, standard European, miniatures, electronic fuses, and a wide range of DC rated fuses (24 VDC - 5000 VDC) for all types applications. We work with medium and high voltage fuses for protection of transformers, including submersibles, motors, medium and high voltage switchgear, compact substations, cable feeders, and high voltage capacitor circuits. New: Full line of PV UL Listed fuses and fuse holders. Contact us today for more information on our products and services.