New BOOSTCAP® Cells and Multi-cell Modules Leverage Versatile Architecture and Electrode Technology To Set Ultracapacitor Industry Standards for Performance, Cost and 'Life-of-the Application' Durability
For Immediate Release

February 14, 2006
SAN DIEGO, Calif. - Maxwell Technologies, Inc. (Nasdaq: MXWL) announced today that it has introduced 16 new Energy-type BOOSTCAP® ultracapacitor cells and multi-cell modules as part of its unique product family strategy to better meet the diverse requirements of the automotive, transportation, industrial and consumer electronics markets.
Dr. Richard Balanson, Maxwell's president and chief executive officer, said that the company is rapidly expanding its ultracapacitor product line to capitalize on its global leadership as a provider of innovative, high-performance, low-cost energy storage and power delivery solutions.
"The worldwide ultracapacitor market is real and increasingly diverse, so we are moving aggressively to strengthen Maxwell's capabilities and global reach to better serve it," Balanson said. "This means new and more technologically advanced products, stronger internal and external production and distribution capabilities and a wider network of partnerships and alliances. This line of Energy-type ultracapacitor products gives our industrial customers a much wider range of choices to meet their energy storage and power delivery requirements."
Michael Everett, Maxwell's vice president and chief technical officer, said that the company is leveraging its versatile cell and module architecture and electrode technology to produce a line of six Energy-type cell sizes with capacitances of 350, 650, 1,200, 1,500, 2,000 and 2,600 farads, along with 10 fully-integrated multi-cell modules based on the new cells. He said that the cells with a capacitance of 650 farads or greater operate at 2.7 volts, enabling them to store more energy and deliver more power per unit volume than any other commercially available ultracapacitor products.
Everett noted that the Energy-type BOOSTCAP products will offer customers cells and modules specifically engineered to provide lower cost solutions for UPS, telecommunications and other light duty industrial electronics applications. He said that a second line of Power-type cells for hybrid vehicle drive trains, automotive subsystems and other applications that require the lowest equivalent series resistance (ESR) and highest efficiency available with current ultracapacitor technology will be introduced shortly.
"In addition to meeting or exceeding demanding transportation and industrial application requirements for both watt-hours of energy storage and watts of power delivery per kilogram, all of these products will perform reliably for more than one million discharge-recharge cycles," Everett said. "The proprietary architecture and material science on which BOOOSTCAP products are based also enable us to significantly reduce manufacturing cost, positioning Maxwell to achieve our stated goal of pricing large cell ultracapacitors at one cent per farad in multi-million-cell annual volumes."
Everett said that all of Maxwell's multi-cell modules are specifically designed to meet end-user requirements for durability and maintenance-free operation. They include internal cell balancing that give designers "plug and play" solutions, plus module-to-module balancing that makes them versatile building blocks for systems with higher voltage requirements.
BOOSTCAP ultracapacitors deliver up to 10 times the power and longevity of batteries, require no maintenance and operate reliably in extreme temperatures. In transportation applications, they efficiently recapture energy from braking for reuse in hybrid drive trains, reducing fuel consumption and emissions. They also provide compact, lightweight, "life-of-the vehicle" solutions to stabilize automotive power networks and power new, all-electric subsystems, such as drive-by-wire steering. In mission critical industrial applications, where backup power is critical for continued operation or a soft shutdown in the event of power interruptions, they provide reliable, cost-effective, maintenance-free energy storage. In wind turbine blade pitch and braking systems and other industrial applications, they provide a simple, solid state, highly reliable, solution to buffer short-term mismatches between the power available and the power required.
Maxwell is a leading developer and manufacturer of innovative, cost-effective energy storage and power delivery solutions. Our BOOSTCAP® ultracapacitor cells and multi-cell modules and POWERCACHE® backup power systems provide safe and reliable power solutions for applications in consumer and industrial electronics, transportation and telecommunications. Our CONDIS® high-voltage grading and coupling capacitors help to ensure the safety and reliability of electric utility infrastructure and other applications involving transport, distribution and measurement of high-voltage electrical energy. Our radiation-mitigated microelectronic products include power modules, memory modules and single board computers that incorporate powerful commercial silicon for superior performance and high reliability in aerospace applications. For more information, please visit our website: www.maxwell.com.
This news release contains "forward-looking statements" within the meaning of Section 27A of the Securities Act of 1933 and Section 21E of the Securities Exchange Act of 1934, and other expressions of management's belief or opinion that reflect its current understanding or belief with respect to such matters. These forward-looking statements and the company's business prospects in general are subject to numerous risks and uncertainties, including the fact that the company has a history of losses, may not be able to achieve or maintain profitability, and may not be able to obtain sufficient capital to meet customer demand or other corporate needs. Other risks and uncertainties involve our ability to fulfill the terms of research programs and long-term contracts, development and acceptance of products based on new technologies, demand for original equipment manufacturers' products reaching anticipated levels, general economic conditions in the markets served by the company's products, cost-effective manufacturing of new products, the impact of competitive products and pricing, and risks and uncertainties involved in foreign operations, including the impact of currency fluctuations. We may also be subject to product liability or warranty claims in excess of our reserves. These and other risks are detailed from time-to-time in the Company's SEC reports, including our Form 10-Q for the quarter ended September 30, 2005, and our Form 10-K for the fiscal year ended December 31, 2004. Actual results may differ materially from those projected. These forward-looking statements represent management's opinions and beliefs as of the date of this news release. The Company disclaims any intent or obligation to update these forward-looking statements to reflect events or circumstances that may arise after the date of this release.
###
Link for BOOSTCAP product images: http://editor.maxwell.com/
Featured Product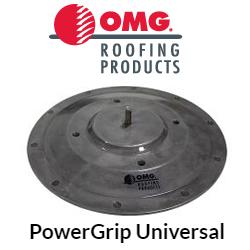 Eliminate Solar Rack Ballast and Reduce Rooftop Material Handling. PowerGrip™ Universal (PGU) is a commercial roof mount system designed to secure solar racks and other equipment to any type of commercial roofing system. PGU provides a secure connection directly to the roof deck or structural members and is designed to reduce or eliminate ballast in solar racking systems, so there's less weight on the roof and less material handling. Made of heavy-duty cast aluminum, PGU units include a base ring which is secured through the roofing cover and into the structural roof deck, and a waterproof top plate.