Xantrex Technology Inc. and European solar power distributor Techno Sun S.L. are celebrating their 15 year partnership. Techno Sun is a Xantrex distributor and Authorized Service Center in Spain. In 2005, this successful alliance resulted in a sales increase of 150%.
BARCELONA, SPAIN, February 20, 2006 - Xantrex Technology Inc. (TSX:XTX) and European solar power distributor Techno Sun S.L. are celebrating their 15 year partnership. Techno Sun is a Xantrex distributor and Authorized Service Center in Spain. In 2005, this successful alliance resulted in a sales increase of 150%.

Techno Sun has been a leading distributor in the Spanish solar market for 30 years, and has built a reputation as the best point-of-contact for solar dealers and installers in Spain. As a pioneer in the Spanish solar market, Techno Sun has helped the European solar industry grow significantly over the years. Xantrex has supplied Techno Sun with outstanding products that meet their customers' requirements.
"The Spanish solar market is growing," said Techno Sun Managing Director Antonio Ramos. "Xantrex helps us keep up with the increasing demand by consistently providing high-quality, reliable products that are easy to install. We believe in Xantrex and work closely with them because we want to have the best quality products in the market."
Xantrex's commitment to design and manufacture exceptional products aligns well with Techno Sun's strategy of excellent customer service and innovative products using the latest technology. Techno Sun was the first distributor to sell the popular Xantrex GT Series grid tie inverters in Spain, which have become a popular choice for solar system dealers and installers.
"Techno Sun's loyalty to Xantrex has been an important factor in our company's expansion in the European solar market," said John Wallace, Xantrex Chief Executive Officer. "With Techno Sun's well-established reputation in Spain, and additional distribution channels in France, Portugal, Italy and South America, we look forward to many more years of continuous mutual growth through this successful alliance."
New initiatives such as joint technical training as well as partnering at premier trade shows like Matelec in Madrid will strengthen the union of these two companies in 2006.
About Techno Sun
Techno Sun S.L. (www.technosun.com) has been a distributor in renewable energy and solar photovoltaic systems since 1976, making it the oldest solar wholesaler with the most experience in Spain. Techno Sun offers the leading brands in the solar segment, with global solutions personalized for its clients. Techno Sun provides professional support for projects, help with legal and administrative tasks, and input to help obtain financing with subsidies. Techno Sun also has its own technical service center. Thanks to Techno Sun's vast experience and the quality and reliability of its range of products, hundreds of installers, system integrators, and official institutions trust Techno Sun's solutions, resulting in several installations throughout Spain.
About Xantrex
Xantrex Technology Inc. (www.xantrex.com) is a world leader in the development, manufacturing and marketing of advanced power electronic products and systems for the renewable, portable, mobile, and programmable power markets. The company's products convert raw electrical power from any central, distributed, or backup power source into high-quality power required by electronic and electrical equipment. Headquartered in Vancouver, British Columbia, the company has facilities in Arlington, Washington; Livermore, California; Elkhart, Indiana; Barcelona, Spain; and Reading, England. Xantrex is publicly listed on the Toronto Stock Exchange under the ticker symbol "XTX".
Note that this news release contains forward-looking statements related to Xantrex Technology Inc. Such statements reflect the current views of Xantrex with respect to future events and are subject to risks and uncertainties that could cause actual results to differ materially from those contemplated in these forward-looking statements.
For further information, please contact Raquel Espada at 011-34-93-556-0972 or
raquel.espada@xantrex.com
Featured Product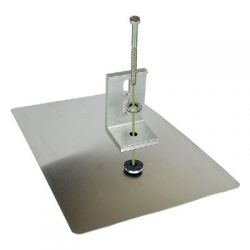 The GreenFasten™ - GF1 system utilizes the patented watertight technology EcoFasten Solar® is known for. The flashing is fit with our EPDM rubber bushing and when used with a compatible EcoFasten Solar compression bracket (milled with countersink), a watertight seal is created, which protects the integrity of the roof. Requiring just a single fastener (lag bolt or self-drilling), GreenFasten provides the fastest install in the industry and will not void roofing manufacturer's warranties. Backed by IAPMO certification, GreenFasten delivers a mounting solution for all new or existing (retrofit) composition shingle roofs, and is the most cost-effective solution available. Like all of the solar roof mount solutions in our line of products, GreenFasten is made in the USA using recycled materials.