Weekly newsletter covers fuel cell technologies, companies and stocks.
DETROIT--(BUSINESS WIRE)--Feb. 14, 2006--The Hydrogen & Fuel Cell Investor ("H2FC"), an independent weekly newsletter covering fuel cell and hydrogen related companies, stocks and technologies, completed its sixth year of publication with its February 5th issue.

"The past few years have been very difficult for some fuel cell stocks, especially those closely associated with automotive applications, as many investors have come to realize that the prospect of fuel cell cars appearing in dealer show rooms is receding", said David Redstone, H2FC's Editor and Publisher. "On the other hand, for example, one publicly traded company which has developed a unique technology is poised to become the first to launch a fuel cell product in the consumer electronics market during the coming year, and tremendous short to mid term potential exists in this area for the well informed and discriminating investor. The key to success in investing in fuel cell related stocks is understanding the relative merits of the various technologies as well as their potential to succeed commercially in specific applications and markets. Feedback from subscribers indicates that the H2FC Newsletter quickly becomes their most important source for the information and independent analysis they need in evaluating the various technologies and companies involved in this complex and rapidly developing industry, both before investing and when following their fuel cell investments once they make them."
A subscription to H2FC includes the weekly newsletter, non-delayed access to the industry's most complete and up to date news listing, full access to all back issues of the newsletter with detailed index, e-mail updates discussing significant industry developments as they occur, and a members only discussion forum. H2FC's Editor is available for consulting and to journalists and others seeking insight into fuel cells and the "hydrogen economy."
Companies covered weekly by H2FC include Ballard Power (Nasdaq:BLDP), FuelCell Energy (Nasdaq:FCEL), Medis Technologies (Nasdaq:MDTL), Plug Power (Nasdaq:PLUG), Energy Conversion Devices (Nasdaq:ENER), Hydrogenics, Distributed Energy Corp., Millennium Cell and MTI Micro. Many other fuel cell and related companies are discussed in the newsletter as developments warrant.
H2FC subscription information: http://www.h2fc.com/subscriber.html
Featured Product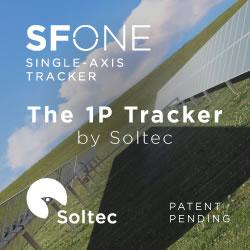 Soltec manufactures and supplies solar trackers designed and proven for extreme climate conditions, which is an ideal solution for any region's environment. Soltec's trackers are self-powered, requiring no additional PV module or grid-powered connection. Bifacial modules collect energy on both the front and rear sides, capturing reflected irradiance from the ground surface under and around the tracker and from other modules. Depending on site conditions, bifacial yield-gain can reach +30 percent.