RenewableEnergyStocks.com - "Global Renewable Energy Insights" Examines the Portable Power Market for Fuel Cells and Advanced Batteries
RenewableEnergyStocks.com - "Global Renewable Energy Insights" Examines the Portable Power Market for Fuel Cells and Advanced Batteries

"Given the massive resources being applied to the task, one way or another portable fuel cells will soon be powering electronic devices." — Catherine Lacoursičre, Clean Technology Correspondent
POINT ROBERTS, Wash., March 1st, 2006 - www.RenewableEnergyStocks.com (RES), an investor and industry news portal for the renewable energy sector, presents the most recent "Global Renewable Energy Insights" column written by Catherine Lacoursičre, clean technology correspondent. This week's column provides perspectives on advancements in fuel cells and advanced batteries as they work to satisfy the needs of the portable power market. According to Research & Markets, forecasted sales for micro fuel cells are anticipated to reach $510 million by 2008, reaching approximately $111 billion by 2013.
Column Excerpt: Fuel Cells and Advanced Batteries Vie for Portable Power Market
By Catherine Lacoursiere
March 1st, 2006
Fuel cells, advanced battery technologies and hybrid technologies all hope to supplant and/or complement the lithium ion battery. The major competition in portable fuel cells is between hydrogen and direct methanol fuel cell technology. Direct methanol fuel cells (DMFC) are an earlier stage technology with a number of technical issues still to be ironed out, including low power density and efficiency. DMFC's require a more active and expensive catalyst to prevent corrosion, such as platinum.
Nonetheless, it is a proven technology in portable applications and a very active area of research. The DMFC can convert cheap liquid fuels directly to hydrogen, dispensing of the reforming unit, which also provides the potential for smaller footprints. The stock price of Polyfuel (LSE: PYF.L), a maker of membranes used in DMFCs, has been climbing steadily since its IPO last year.
To Read the Column in Full: http://www.renewableenergystocks.com/CL/News/Portable_Power_Market.asp
Featured RenewableEnergyStocks.com Public Companies: (RES is compensated by XsunX, Legend Investment and SmartCool as disclosed in disclaimer below.)
XsunX, Inc (OTCBB: XSNX) is the developer of Power Glass' - an innovative thin film solar technology that allows glass windows to produce electricity from the power of the sun. This proprietary process is intended to allow manufacturers to apply a transparent and photovoltaic glazing to glass and other transparent substrates.
For More Info: http://www.renewableenergystocks.com/CO/XSNX/Default.asp
Legend Investment Corp. (OTC.PK: LVCP) is dedicated to the acquisition and development of solar energy companies. LVCP owns 51% of GiraSolar BV, which provides them with access to the GiraSolar Group of companies within the solar arena. The GiraSolar group is an umbrella organization for subsidiaries, partners and affiliated entities active in the field of solar energy product development, production and application with $12,000,000 USD generated in revenue last fiscal year. For More Info: http://www.renewableenergystocks.com/CO/LVCP/Default.asp
SmartCool Systems, Inc. (OTC.PK: SSCFF; TSX VENTURE: SSC), a marketer of advanced energy saving technologies which reduce the electricity consumption (Kwh) and maximum demand (Kw/KVA) of refrigeration and air conditioning compressors. As a distributor of the Abbotly System 4000 Energy Savings Module (ESM)®; a system of micro-computer digital optimization modules which work with existing compressor equipment and controls, SmartCool enables businesses to reduce the electricity usage of refrigeration and air conditioning compressors by 10% to 20% while maintaining temperature performance. For More Info: www.renewableenergystocks.com/CO/SSC/Default.asp
RenewableEnergyStocks.com provides a variety of renewable and clean energy content through: Global Renewable Energy Insights, by Catherine Lacoursiere, clean technology correspondent, as well as Renewable Energy Blogs, all available at: http://www.renewableenergystocks.com or become a 'priority' member of the InvestorIdeas.com investor and industry research resource portals and be at the top of our list to be the first to know what is happening in industry and sector trends. http://investorideas.com/membership/
RES also includes one of the most comprehensive free renewable energy stock lists in the investment industry:
http://www.renewableenergystocks.com/Companies/RenewableEnergy/Stock_List.asp
Investorideas.com Disclaimer: www.InvestorIdeas.com/About/Disclaimer.asp Our sites do not make recommendations, but offer information portals to research news, articles, stock lists and recent research. Nothing on our sites should be construed as an offer or solicitation to buy or sell products or securities. We attempt to research thoroughly, but we offer no guarantees as to the accuracy of information presented. All Information relating to featured companies is sourced from public documents and/ or the company and is not the opinion of our web sites. These sites are currently compensated for by its "featured companies." SmartCool Systems Inc. (OTC.PK: SSCFF; TSX.V:SSC) three thousand dollars per month, plus 100,000 stock options. XSUNX Inc. (OTCBB: XSNX) Three thousand five hundred dollars per month and two thousand equivalent in one forty-four shares. Legend Investment Corp. (OTC.PK: LVCP) Three thousand five hundred dollars per month and two thousand equivalent in one forty-four shares.
For more information contact:
Dawn Van Zant 800.665.0411
Ann-Marie Fleming 866.725.2554
Email: dvanzant@investorideas.com, or afleming@investorideas.com
Web Site: www.InvestorIdeas.com
Source: RenewableEnergyStocks.com, Legend Investment Corp., XsunX Inc, Polyfuel
Featured Product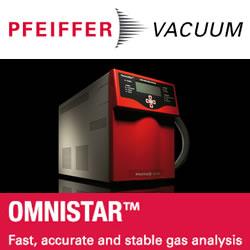 The Pfeiffer Vacuum OmniStar benchtop analysis system offers you a compact footprint, powerful software and Ethernet connectivity. It's the optimum solution for many real-time gas analysis applications. With the OmniStar, Pfeiffer Vacuum offers you a complete solution for gas analysis, in chemical processes, semiconductor industry, metallurgy, fermentation, catalysis, laser technology and environmental analysis. The turnkey OmniStar gas analysis system consists of heated, temperature-regulated gas inlet system, Quadrupole mass spectrometer, a dry diaphragm vacuum pump and HiPace turbopump. Unlike competing methods such as FTIR, OmniStar is suitable for qualitative and quantitative analysis of most gases.