Montreal, Canada -- February 20, 2006 -- Sunforce Products is proud to announce the addition of Spencer Jansen to Sunforce's prestigious Board of Advisors.
Spencer joins the board with a significant amount of experience in the solar field with specific and deep knowledge within the glass amorphous field.

Spencer's expertise began with Optical Coatings with Pilkington Optronics where Spencer held senior level positions and was instrumental in developing world-leading optical coatings for display and Solar cell applications, whilst increasing productivity by more than 50%. After Pilkington, Spencer joined Intersolar to run and develop its amorphous solar production plant in the UK, increasing both its capacity and performance through creative and goal oriented improvements. Intersolar went insolvent and Spencer joined the acquiring company, ICP Solar Technologies. Spencer's experience with ICP Solar spanned performance increases, testing protocols, capacity increases and QC. Spencer is now and independent consultant leveraging his vast expertise in Amorphous Solar Cell Technologies.
Spencer will leverage his vast experience and has already done so with Sunforce Products by enabling Sunforce to significantly increase solar cell performance though the implementation of a number of "best practice" initiatives.
"Since Spencer joined our team, our product performance has increased at a very rapid rate. We have also gained valuable knowledge on testing methodology in the industry, which has inspired Sunforce to become a company that will always over deliver on performance. Spencer is an asset to Sunforce Products and will assist us in continuing our successful delivery of world class solar products." Said Michael Dahan, Sunforce's Managing Director
"It is an honor to join such an innovative and progressive company that truly listens to its customers and advisors. Sunforce faces much competition; however, they deliver and have the highest customer service levels in the industry which is the key to customer retention. I hope my technical expertise will further drive their goals" Said Spencer Jansen.
About Sunforce Products:
Sunforce Products provides 12 Volt Solutions and is a manufacturer and distributor of Solar, Wind and 12V products. Sunforce's expertise includes amorphous, Flexible and Crystalline Solar Technologies in addition to innovative Wind Turbine Technologies, 12V Spotlights, and lawn and garden products. Sunforce Products has wide distribution networks including Canadian Tire, Northern Tool, Costco, Wal-Mart, Brunton and many more. With Headquarters in Montreal, Canada, Sunforce Products also has manufacturing and distribution facilities in the Asia, USA and Europe. For more information, please visit www.sunforceproducts.com, or press@sunforceproducts.com
Featured Product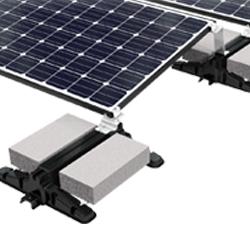 The Power Rail™ Commercial Mounting System is designed with the professional PV solar installer in mind. Both the XD/UD and LD/MD rails feature single tool assembly with the revolutionary patented RAD™ Lock-in-Place bolt for fast and secure module clamping. The high strength marine-grade aluminum rails include an integral wiring channel for securing cables and providing a professional finish.