New Business for Exhibitors - Standing in Line for the "Ride & Drive"
The fourth Hydrogen Expo US, held again as part of the National Hydrogen Association's Annual Hydrogen Conference 2006 in Long Beach, California is still on the growth path. From March 12 to 14, 92 exhibitors (2005: 65) showcased the latest in hydrogen and fuel cell technologies, drawing almost 2,000 attendees (2005: 1,500) into the exhibit hall. A growing international participation on the exhibitor side proves the importance of the leading gathering of industry professionals committed to clean energy in North America.

One of the event's highlights was the "Ride & Drive", hosted by the National Hydrogen Association and organized by the California Fuel Cell Partnership. Twelve vehicles were available for test-rides, including a new version of Honda's FCX, the Toyota FCHV, DaimlerChrysler's F-Cell, the GM HydroGen3, and a Pick-Up converted to hydrogen combustion by ETEC. Due to the great interest, standing in line for a spin in one of these cars could hardly be avoided. The concept of converting conventional vehicle engines to hydrogen fuel was also presented in the expo hall. There, a highway patrol car from Hydrogen Labs and Quantum's Prius-based hybrid with a fuel cell and an H2 internal combustion engine stood out. BMW, whose presentation was regarded as the most attractive booth by many, among other things playfully visualized the compression of the clean fuel for the combustion engine of the new H2-7series.
Compressor, valve and sensor technologies comprise another growing segment of Hydrogen Expo US. "This demonstrates how the expo grows with the market", says Ines Freesen, Managing Director of expo organizer Freesen & Partner GmbH. "For a number of exhibitors the event has helped to pave their way into market." Pdc Machines for example, a manufacturer of diaphragm compressors for various uses of hydrogen, was able to generate some US$ 5 million in new business from Hydrogen Expo US since 2003.
Exhibitor General Physics (GP) was enthusiastic about their participation, too: "Hydrogen Expo US was a great success for us", commented Mary Cyr, responsible for GP's booth. "We were able to make many new contacts and network with new and existing clients." - "Not only the big players such as Air Products, Linde, Ballard, Hydrogenics or UTC benefit from the expo", concludes Ines Freesen. "Smaller suppliers have also been successful in strengthening their foothold in this growth sector, which currently offers the best potential in the United States."
The next NHA Annual Hydrogen Conference and Hydrogen Expo US 2007 will be held in San Antonio, Texas. The expo is open on March 18-20, the conference takes place from March 18-22. Around 60% of the exhibit space for this event is already gone. Companies interested in having a presence should contact the organizer as soon as possible at tel. +49-2802-948484-0, or in the US & Canada at tel. 207-236-6196, Email: info@hydrogenexpo.com
This press release and pictures from the 2006 event can be downloaded on http://www.hydrogenexpo.com in the "Press" section.
Press Contact:
Ines Freesen, Freesen & Partner GmbH
Tel. +49-2802-948484-0, Fax: +49-2802-948484-3
info@hydrogenexpo.com
Featured Product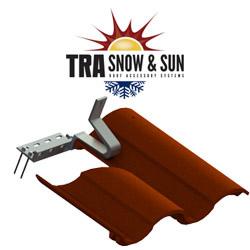 You haven't installed a tile mount that is easier to install than the Solar Tile Mount manufactured by TRA Snow and Sun. Solar Tile Mount is used on all tile roof profiles: flat, mid, and high. It is made in the USA of aluminum alloy for strength and excellent corrosion resistance. Solar Tile Mount is built to allow more ease in installation with more rise from the tile surface to the rail for better air flow below panels. The adjustable base is longer than most allowing attachment 6" to the left or right to have the bracket in the base of the pan of the tile and still fasten to the rafter. Solar Tile Mount is adjustable for counter batten systems from ¾" to 3". The horizontal rail is directly above base fasteners giving greater uplift resistance than any other system. For superior waterproofing apply TRA Snow and Sun's butyl backed VersaFlash aluminum flashing. No tile flashing is needed on top of the tile for greater labor and material cost savings.