Cleantech Capital Group LLC and Kurzman Investment Partners LLC Sign Strategic Partnership to Collaborate on First Cleantech Public-Equity Hedge Fund
SAN FRANCISCO, March 23, 2006 - Cleantech Capital Group, LLC, and Kurzman Investment Partners, LLC, today announced the formation of a strategic partnership to collaborate on the first hedge fund focused on public-equity cleantech investments.

Cleantech Capital Group brings its marketing, cleantech venture experience and investment market understanding, research capabilities and global brand leadership position to the strategic partnership. Kurzman Investment Partners, LLC, the general partner of Kurzman CleanTech, LP, a hedge fund focused on public cleantech investment opportunities, will identify and invest in growth companies providing improved productivity, higher efficiency and reduced environmental impact.
"Our mission is to facilitate the growth of cleantech globally and we see our formal relationship with Kurzman CleanTech and Kurzman Investment Partners as an excellent opportunity to work with a knowledgeable and experienced partner with a proven track record to help us make this venture a success," said Nicholas Parker, Chairman and Co-founder of Cleantech Capital Group, LLC.
"We are delighted to partner with Nick, Keith and the rest of the Cleantech Capital Group," said David H. Kurzman, Managing Partner of Kurzman CleanTech, LP. "What they have done to place cleantech investing on the financial map both here in the United States and around the world is a testament to their years of innovative, hard work. We invest in proven companies that are technology leaders offering significant growth potential. The Cleantech Capital Group has the talent and experience to provide this new venture with considerable insight and guidance as we search for the leading public cleantech companies of today and the future."
Mr. Kurzman continued: "For more than two years, we have identified superior investment opportunities and generated a net return to our limited partners in excess of 17% compounded annually. Our partnership with Cleantech Capital Group follows our proven blueprint of teaming with smart managers with vast industry insight."
About Cleantech Capital Group, LLC
Cleantech Capital Group LLC's, (CCG) primary mission is to drive the rapid growth of clean technology commercialization globally through facilitating investment and broadening the understanding of clean technology's potential. CCG offers market research, advisory and information services to investors, corporations, government agencies, and organizations. Cleantech Venture Network LLC, a CCG business unit, brings together cleantech investors and entrepreneurs, seeking capital investment to complete investment deals through their global Cleantech Venture Forum series. In addition, CCG offers global advisory services to investors, corporations, government agencies and foundations through Cleantech Capital Advisors, and offers the Cleantech Index of 75 cleantech public companies on the American Stock Exchange (AMEX) through the Cleantech Capital Indices. CCG is well positioned for rapid international expansion into Europe and Asia and plans to announce several new strategic partnerships and initiatives in the next few months. Further information can be found at www.cleantech.com or by calling (+1) 810-224-4310.
About Kurzman CleanTech, L.P.
Kurzman CleanTech, LP is a concentrated, long/short equity fund investing in high-value/high-growth public clean technology companies offering above-average rates of return. David H. Kurzman is Managing Partner of Kurzman CleanTech, L.P. with a decade of experience analyzing public-equity securities, most recently as a Vice President of Equity Research with Needham & Co. where he led the Industrial Technology research effort. From 2000 to 2003, Mr. Kurzman was a Vice President of Research at H.C. Wainwright & Co. covering Alternative Energy and Industrial Technology companies. Between 1996 and 1999, Mr. Kurzman was an Analyst at Value Line Inc. and the Weitz Funds, an Omaha-based mutual fund company.
Mr. Kurzman's work has been recognized by leading news channels, including CNBC, PBS' Wall Street Week with Fortune, the British Broadcasting Company (BBC), Bloomberg News, Reuters, The New York Times, The Watt Street Journal, USA Today, Barron's, BusinessWeek, Bloomberg Magazine and Wall Street Research. Mr. Kurzman was named "Best On The Street" by The Wall Street Journal in 2003 for the area of Electronic Components & Equipment, was rated as a Zack's All-Star Analyst in 2001 and 2002.
Featured Product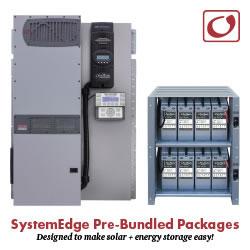 Each pre-bundled package is designed to make solar plus energy storage easy. By combining OutBack's most popular FLEXpower pre-wired systems with matched OutBack energy storage, SystemEdge takes the guesswork out of installing solar plus storage. Every SystemEdge package includes a FLEXpower factory pre-wired system, application-specific EnergyCell batteries and racking, FLEXware ICS Plus combiner and all the necessary connection hardware.