While the nation's gas prices continue to rise the National Outdoor Leadership School (NOLS) has found a better way to get around. The school has a 36-foot bus fueled by Recycled Vegetable Oil traveling the country, providing an active, environmentally conscious way to learn about the outdoors.
The bus runs on recycled vegetable oil (RVO) collected from local restaurants, a cleaner, renewable alternative to petroleum. So far, the bus has traveled more than 40,000 miles on RVO during its 540-day journey crossing the country. This approach has saved 3,000 gallons of petroleum, and eliminated sulfur dioxide (SO2) emissions while significantly reducing the release of other particulates. The specially adapted vehicle is also equipped with solar panels that power its audio-visual equipment, lights and computers.

"In just eighteen months we have saved thousands of dollars," says Bruce Palmer, NOLS director of admission and marketing. "But more important, as a school that teaches environmental ethics, we have practiced what we teach and recycled a waste product, used a renewable resource grown by American farmers, and decreased our emissions. Good for our pocketbook and good for the environment."
Sponsored by Silk', the makers of organic soymilk, the bus brings NOLS' high-quality outdoor education right into communities. Activities include a climbing wall on the side of the bus, fly-fishing clinics and Wilderness Medicine Institute of NOLS (WMI) clinics.
Evenings feature the bus' solar-powered outdoor theatre showing the NOLS movie "The Expedition," NOLS alumni expedition slide shows and sneak previews of the NOLS TV series. High-quality outdoor gear is also raffled on college campuses.
Founded in 1965 by legendary mountaineer Paul Petzoldt, the National Outdoor Leadership School is the leader in wilderness education and sets the industry standard for responsible, high quality educational expeditions. A private non-profit school, NOLS operates wilderness expeditions on four continents and boasts more than 75,000 alumni worldwide. The school runs 10-day to semester-length courses for people aged 14 to over 70 in the Rocky Mountains, Tetons, Pacific Northwest, Southwest, Alaska, Western Canada, Mexico, Patagonia (Chile), India, Australia, New Zealand, Baffin Island and the Amazon. College credit and scholarships are available. For more information, call NOLS at (800) 710-NOLS (6657) or visit the web site at www.nols.edu.
Featured Product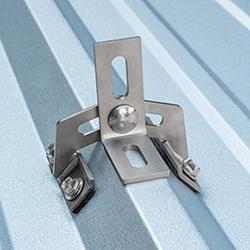 QuickBOLT Low Profile QuickBOLT with Microflashing™ is the industry's affordable, UL Certified Asphalt Shingle mounting system. The Microflashing™ is compressed by the collar on the bolt to create a water-tight seal. With an installation time of less than one minute, the Low Profile QuickBOLT allows installers to complete more jobs.