GeoSmart Energy named Selectpower its Geothermal National Dealer of the Year for 2005 Selectpower installed more geothermal systems than any other dealer in Canada,with projects ranging from 1500 sq. ft urban homes to million dollar cottages to the new Guelph Hydro Administration Building.
FOR IMMEDIATE RELEASE

Selectpower WINS GeoSmart Energy National Dealer of the Year Award
Cambridge - March 28, 2006 - GeoSmart Energy named Selectpower its Geothermal National Dealer of the Year for 2005 at a banquet held in Cambridge Monday night. Selectpower was chosen from over 65 dealers from across Canada, for its outstanding sales achievements in 2005.
"Selectpower combined technical excellence with huge appetite for saving energy and reducing carbon emissions," Stan Marco, co-founder of GeoSmart Energy told the audience of geothermal specialists.
Lead by Leslie Thomas, Selectpower's Manager of Energy Services, Selectpower's geothermal team not only installed more geothermal systems than any other GeoSmart dealer in the country last year, but also the greatest volume of heating and cooling tonnage. Selectpower completed geothermal projects ranging from 1500 square foot urban and rural homes to million dollar cottages in Muskoka to the new Guelph Hydro Administration Building.
"Geothermal energy is rapidly becoming a significant source of renewable energy," said Suzanne Wiltshire, President & CEO of Selectpower. "The technology has largely become perfected for almost any type or size of building, and customers are delighted to not have to worry about rising energy costs."
Geothermal energy systems rely on water circulated through special high-density plastic pipes laid horizontally several feet under the ground or inserted into vertically drilled holes. In winter the pipes collect heat and deliver it to heat pumps which heat the building. In summer heat is collected from the building and shed back into the ground. The system uses significantly less electricity than traditional air conditioning and uses no natural gas or other fossil fuel for heating.
"Canadians are definitely becoming more environmentally demanding", said Wiltshire. "Paybacks of 3 to 7 years are certainly economically attractive, but LEED certification (Leadership in Energy and Environmental Design) is increasingly important to commercial developers selling into a growing market for higher quality buildings."
"Geothermal systems have been around for 30 years," says Marco, "but improved technology and today's fuel costs are now driving it into the main stream. I don't know of a government building project today, municipal, provincial or federal, that isn't going for some level of LEED certification, and geothermal is certainly one of the most cost effective ways of achieving that goal," said Marco.
- 30 -
GeoSmart Energy Inc., located in Cambridge Ontario, is a national distributor of geothermal equipment.
Selectpower Inc. supplies energy and energy-related products and services to residential and commercial customers throughout Ontario. Selectpower is an affiliate of Guelph Hydro Inc.
Featured Product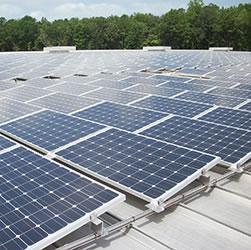 The Power Rail™ Commercial Mounting System is designed with the professional PV solar installer in mind. Both the XD/UD and LD/MD rails feature single tool assembly with the revolutionary patented RAD™ Lock-in-Place bolt for fast and secure module clamping. The high strength marine-grade aluminum rails include an integral wiring channel for securing cables and providing a professional finish.