Maxwell Technologies' 48V BOOSTCAP Ultracapacitor Module Nominated in EDN's 16th Annual Innovation of the Year Awards Competition
BOSTON, MA, March 30, 2006 - Maxwell Technologies, a leading developer and manufacturer of innovative, cost-effective energy storage and power delivery solutions, today announced that its 48V multicell BOOSTCAP ultracapacitor has been selected from a field of hundreds as a finalist for this year's EDN Innovation Awards in the Power Systems and Modules category.

Maxwell Technologies' 48V multicell BOOSTCAP ultracapacitor module is based on a technological breakthrough enabling it to store more energy, deliver more power per unit volume, and last longer than other commercially available ultracapacitor products. The key innovations include the electrode material development and the module integration design. Maxwell has developed its own proprietary electrode utilizing patented manufacturing techniques, which enable low cost, high performance, and high purity. Over time, Maxwell Technologies has lowered the cost of the ultracapacitor from $1/farad to about $0.01/farad, making it an affordable and environmentally friendly power source.
"We are honored that EDN has nominated Maxwell's 48V BOOSTCAP as a finalist in the Power Systems and Modules category," said Dr. Richard Balanson, Maxwell's president and chief executive officer. "This distinction solidifies Maxwell's position as a global technology leader in cost-effective energy storage and power delivery solutions. It also demonstrates that ultracapacitor-based solutions are making great advancements in the contemporary power management market."
Instituted in 1990, the Innovation Awards honor the people, products and technologies that have shaped the semiconductor industry over the past year. Nominees within the Innovations of the Year (product/technology categories) must have demonstrated innovation that resulted in a significant advance in technology and/or product development during the past 12 months and must have shipped in volume in the 2005 calendar year.
"The advancements that distinguish the finalists in the annual EDN Innovation program may seem subtle—minimally lower power, a slight reduction in cost, the ability to discern a faster signal, or the gateway to new semiconductor processes," states EDN Editor-In-Chief Maury Wright. "Yet those subtleties represent hard-won engineering victories that make all the difference in the latest compelling consumer products, computers, and communication systems. I congratulate all of this year's finalists for advancing the state-of-the-art in everything from discrete components to processors to chip-design tools."
For the past few weeks, EDN's worldwide audience of electronics engineers and engineering managers used an online ballot to select the ultimate winners from among these finalists. EDN's editorial staff and Editorial Advisory Board also took part in determining the final winners. Winners will be announced at a black-tie ceremony on April 3, 2006 in San Jose.
About EDN/Reed Business Information
Known as the "Voice of the engineer," Waltham, MA-based EDN serves the vital information needs of design engineers and engineering managers worldwide. The EDN franchise includes EDN, EDN Europe, EDN Asia, EDN Australia, EDN China, EDN Japan, and EDN.com.
EDN is published by Reed Business Information (www.reedbusiness/.com/us), the largest business-to-business publisher in the U.S. and a member of the Reed Elsevier Group plc (NYSE: RUK and ENL) - a world-leading publisher and information provider operating in the science and medical, legal, education and business-to-business industry sectors.
About Maxwell Technologies
Maxwell is a leading developer and manufacturer of innovative, cost-effective energy storage and power delivery solutions. Our BOOSTCAP® ultracapacitor cells and multi-cell modules and POWERCACHE® backup power systems provide safe and reliable power solutions for applications in consumer and industrial electronics, transportation and telecommunications. Our CONDIS® high-voltage grading and coupling capacitors help to ensure the safety and reliability of electric utility infrastructure and other applications involving transport, distribution and measurement of high-voltage electrical energy. Our radiation-mitigated microelectronic products include power modules, memory modules and single board computers that incorporate powerful commercial silicon for superior performance and high reliability in aerospace applications. (http://www.maxwell.com/)
###
Featured Product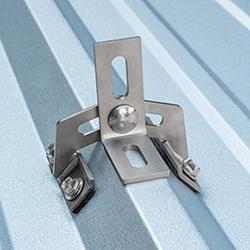 QuickBOLT Low Profile QuickBOLT with Microflashing™ is the industry's affordable, UL Certified Asphalt Shingle mounting system. The Microflashing™ is compressed by the collar on the bolt to create a water-tight seal. With an installation time of less than one minute, the Low Profile QuickBOLT allows installers to complete more jobs.