RenewableEnergyStocks.com - New Featured Renewable Energy Stock, Vitasti Inc. Targets Wind in China's Growing Renewable Energy Market
RenewableEnergyStocks.com - New Featured Renewable Energy Stock, Vitasti Inc. Targets Wind in China's Growing Renewable Energy Market

China's Demand for Energy Solutions Provide Further Incentive for North American Companies Moving Into the Renewable Energy Sector
POINT ROBERTS, Wash., April 18, 2006 - www.RenewableEnergyStocks.com (RES) and www.China-AsiaStocks.com (CAS) leading investor and industry portals for the renewable energy and China-Asia sector, introduce new-featured company Vitasti, Inc. (OTCBB: VITS), a company which recently acquired 100% of combined assets in Welwind Energy International Corporation (WEIC). Welwind, was founded to build, own and operate wind farms, with an objective to promote sustainable energy in their feature project in China, where development will be centered along the South China Sea.
According to the China Energy Group, the target set for renewable energy by the China National Energy Strategy and Policy 2020 (NESP) is, "an additional 90 to 100GW of capacity by 2020, including 60 to 70 GW of small-scale hydropower, 20 GW of wind power, (and) 1 GW of biomass-fired electricity." Vitasti's project based in China is intended to forge a link between the company's North American products and services and China's growing economy. Currently as companies such as CLP Holdings Ltd., (one of Hong Kong's biggest electricity utilities), invest in wind farms in the country, the spotlight is shifting towards China's wind energy sector, as plans for an offshore wind project are released.
As some of the country's top power producers align themselves to take advantage of this market, Vitasti has identified their entry point. Additionally, the company has announced the appointment of Mr. David Wing Yiu Cho to the Board of Directors who brings considerable experience in the Asian marketplace. His professional memberships and associations list from connections to the Securities Association of China, the Hong Kong Stock Brokers Association, Hong Kong Securities Institute and Hong Kong Securities Professionals Association.
Shannon deDelley, Director of Vitasti Inc. has stated that, "China's galloping economic growth over the past 20 years has meant enormous increases in electrical power demands, 75% of which comes from coal. China is the world's largest coal-consuming country and home to 16 of the world's 20 most polluted cities on the planet. Vitasti believes that through acquisitions, like that of Welwind, it is positioning itself to be a leader in the alternative energy market."
Featured Company Vitasti, Inc: (RES and CAS are compensated by Vitasti Inc. as disclosed in disclaimer below.)
Vitasti, Inc. (OTCBB: VITS) will be presenting at the InvestorIdeas.com Online Energy Conference being held on April 26th at http://www.investorideas.com/forums/Portals/energy.aspx For More Info on Vitasti: http://www.renewableenergystocks.com/CO/VITS/Default.asp
www.RenewableEnergyStocks.com (RES), and www.China-AsiaStocks.com (CAS), portals within the InvestorIdeas.com content umbrella, do not make recommendations, but offer investors research, news and links to public companies within the renewable energy industry and China-Asia sector. RenewableEnergyStocks.com provides a variety of renewable and clean energy content through: Global Renewable Energy Insights, and Renewable Energy Blogs, all available at: http://www.renewableenergystocks.com
CAS includes a comprehensive and growing list of China Asia Stocks: http://www.China-AsiaStocks.com/Companies/China-AsiaStocks/Stocks_List.asp RES also includes a free renewable energy stock list:
http://www.renewableenergystocks.com/Companies/RenewableEnergy/Stock_List.asp
Priority membership: InvestorIdeas.com' investor and industry research resource portals, membership allows you to be at the top of our list to be the first to know what is happening in industry and sector trends. http://investorideas.com/membership/
InvestorIdeas.com Disclaimer: www.InvestorIdeas.com/About/Disclaimer.asp Our sites do not make recommendations, but offer information portals to research news, articles, stock lists and recent research. Nothing on our sites should be construed as an offer or solicitation to buy or sell products or securities. We attempt to research thoroughly, but we offer no guarantees as to the accuracy of information presented. All Information relating to featured companies is sourced from public documents and/ or the company and/or IR firm and is not the opinion of our web sites. These sites are currently compensated for by its "featured company "Vitasti, Inc. (OTCBB: VITS), Thirty five hundred dollars per month, plus two thousand a month in one forty-four stock.
For more information contact:
Dawn Van Zant 800.665.0411
Ann-Marie Fleming 866.725.2554
Email: dvanzant@investorideas.com, or afleming@investorideas.com
Web Site: www.InvestorIdeas.com
Source: RenewableEnergyStocks.com, Vitasti Inc.
Featured Product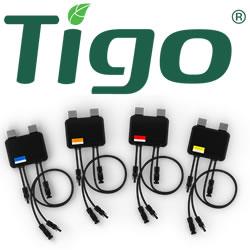 Tigo will announce the new product launch of the patented UHD-Core TS4-A (Advanced Retrofit/Add-on) Platform at SPI 2019. The new TS4-A-M (Monitoring) & TS4-A-S (Safety) units have improved lightweight hardware and lower labor costs to address a range of functions and budgets. The TS4-A-M allows module-level monitoring via Tigo's SMART Website & App. The TS4-A-S is UL-certified as a rapid shutdown solution for residential and C&I PV system. Both units join the Tigo's multivendor solution that works with almost any inverter and smart module in the global PV market. Contact sales@tigoenergy.com for pricing, shipping, and availability in Q4'19.