The dNGR produces from sewerage effluent renewable energies, environmentally friendly , that will help reduce GHG.
Every
City ,large town or small town can install dNGR today, without waiting for our politicians to come up with a solution, the dNGR is the only solution to the problem that also returns a high return on capital investment. Get rich while you solve the earths GHG / Climate change problems. The only lack of this solution is your lack of action, today.
Featured Product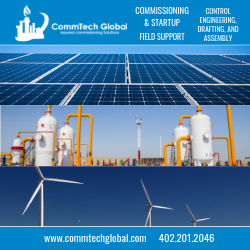 CommTech Global Solutions, LLC, provides professional and reliable commissioning services to customers in all realms of the energy industry. We blend our skills in engineering and technology with innovative business models, offering a complete range of services to assist you for a successful and in compliance operational startup. Consolidation of all our service domains gives our clients a comprehensive set of expertise and far-reaching experience on each project.