USE THE PROBLEM OF TOO MANY AIRLINE JETS AS A SOLUTION TO CLIMATE CHANGE
______ ETT_______

Environmental Treatment Technologies, Inc.
800-472-1045 Buffalo, Wyoming ett@wyoming.com
April 2006
I have an idea, of global dimension, by which humanity may attempt to counteract uncontrolled emissions of greenhouse gasses. The very simple idea involves emitting sulfur dioxide into the stratosphere to react with stratospheric water vapor and form a reflective gaseous 'shield' to reflect incoming solar radiation in the same way volcanic eruptions are known to form a stratospheric SO2 layer and result in significant global temperature reductions. This same process could be accomplished by installing SO2 generators on aircraft for dispersion of the reflective gas at stratospheric levels - not unlike the emissions from a volcano. Such a global climate control mechanism which copies the natural volcanic phenomenon should be attempted as soon as possible. Such an atmospheric gas emission process would be a first method of managing earth climate, and could be improved through execution.
This solution would be a simple means of applying a natural event as a tool for limiting incoming solar radiation, and could be gradually implemented to ensure successful application.
Bruce W. Bandorick, MEM
Thunder Basin Environmental Consulting, Inc.
Environmental Treatment Technologies, Inc.
307-684-1277
Buffalo, WY 82834
www.tbecOnline.com tbec@wyoming.com
Featured Product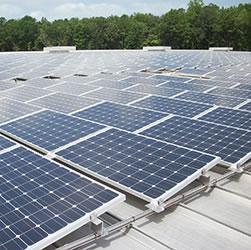 The Power Rail™ Commercial Mounting System is designed with the professional PV solar installer in mind. Both the XD/UD and LD/MD rails feature single tool assembly with the revolutionary patented RAD™ Lock-in-Place bolt for fast and secure module clamping. The high strength marine-grade aluminum rails include an integral wiring channel for securing cables and providing a professional finish.