With a matter of weeks to go before the annual All-Energy exhibition and conference opens in Aberdeen, Scotland (24-25 May) it is breaking records and establishing firsts in plenty!
The consultation period for the Energy Review may have closed, but All-Energy 2006, the UK's largest renewable energy exhibition and conference being held in Aberdeen, Scotland on 24 and 25 May will ensure that attention continues to be focussed on all forms of renewable energy.

The sixth in the series - and the largest to date - this year's event features a series of "firsts" - cars of the future in the exhibition hall; Norway's first national group stand at the show, and an 'innovation from Norway' session in the conference; the first exhibitor from Japan; together with a compelling and highly topical conference. There is no charge to attend the exhibition as a visitor or for attendance at any of the conference sessions or at the All-Energy Giant Networking Evening.
"We can assure any potential visitor that they have two packed and highly rewarding days ahead of them," explains project director Judith Patten of Media Generation Events Ltd who organise the event in partnership with Aberdeen Exhibition and Conference Centre.
"All-Energy provides the ideal opportunity for all with a professional interest in renewable energy to find out the latest state-of-play whether they are investors eager to track down and fund original ideas; farmers wanting to know about opportunities for growing specialist crops for bioenergy; manufacturers looking for suppliers; developers sourcing equipment and services; architects / builders / electricians or plumbers eager to find out more about microrenewables in order to be able to satisfy the ever-increasing number of enquiries they are receiving from customers; offshore oil and gas specialists interested in diversification alongside their core business; or landowners eager to talk with developers. In 2005 All-Energy attracted some 2150, this year we expect even more to attend over the course of the two days - it is not surprising that the show has been called "the AGM of the renewable energy world"!"
Impressive conference reach
The strong conference programme - now on the All-Energy website at www.all-energy.co.uk - demonstrates the impressive reach of All-Energy 2006. With up to 150 speakers and chairmen, the programme features keynote addresses by Energy Minister, Malcolm Wicks; Scotland's Deputy First Minister, Nicol Stephen, and Lord Oxburgh (the former Shell chairman) in a session chaired by James Smith, Chairman of Shell UK. There will also be a compelling debate chaired by former Energy Minister, Brian Wilson and Jeremy Cresswell, journalist and chairmen of AREG (Aberdeen Renewable Energy Group), featuring spokesmen for the gas, nuclear, coal and renewable energy industries. An intriguing feature will be that the audience will be asked to vote both before and after their presentations on the energy mix expected to be in place by 2020. In another topical session, the power industry will give a response to climate change
All-Energy lives up to its proud boast that it covers all forms of renewable energy for there are conference sessions devoted to offshore wind - including half a day devoted to the DOWNVInD (Distant Offshore Windfarms with No Visual Impact in Deepwater) project featuring the 'Beatrice demonstrator' that will see two deepwater wind turbines installed close to the Beatrice oilfield Alpha platform this summer. Other sessions will focus on onshore wind; bioenergy (biofuels and biomass); wave and tidal (including tidal barrage, test facilities, environmental assessments and funding); 'innovation from Norway' - including presentations on two Norwegian tidal schemes, Hammerfest Strom and Tidal Sails; hydrogen and fuel cells; and hydro.
Microgeneration, increasingly in the spotlight, will also be featured at All-Energy with the first session setting the scene including a presentation by Mark Lazarowicz MP looking at the view from Westminster and Holyrood; and the second session providing a 'technology update' and looking at small wind, PV/solar, solar water heating, micro CHP, and ground source heat pumps.
Other All-Energy conference sessions cover carbon capture and storage; and integrated initiatives - featuring projects that show how renewable energy systems and fuel cell systems can be part of an integrated whole, decreasing dependence on fossil hydrocarbons.
Additionally too there are sessions covering some of the key issues, challenges and opportunities facing the renewable energy industry - renewables and communities; skills - opportunities and shortages; grid/networks; finance and funding; and market opportunities.
The whole gamut under one roof
"We believe that we have under one roof as complete a picture of the current state of play in the renewable energy industry as it is possible to get," says Judith Patten.
"In addition to a stimulating conference programme, All-Energy features a major exhibition, which is larger than it has ever been before, with up to 200 companies actively involved in the renewable energy industry from the UK, Norway (with a national group stand for the first time), Denmark, Germany, Ireland and Japan (again another first). And we've yet another first - cars of the future. The Saab 9-5 BioPower, the Honda Civic Hybrid, and the Toyota Prius will all be on show in the exhibition hall.
Does what it says on the tin!
Networking is a vital component part to All-Energy. Once the conference and exhibition have closed on Wednesday 24 May, the networking begins in earnest first with a Civic Reception hosted by Aberdeen City Council followed by the Giant Networking Evening sponsored by Shell and featuring attractions for those of a competitive nature (racing and rally car and motorcycle simulators; golf competitions; giant Jenga; football tables; laser target shooting); close up magicians; live music; massage to ease aching shoulders; whisky tasting - with a chance to taste J&G Grant's Glenfarclas whisky; plenty of delicious food --- and, above all, an opportunity to mix and mingle with others in the industry. There is no charge for attending the Giant Networking Evening (there is a cash bar once the Civic Reception has come to an end).
All-Energy is held in association with BWEA (the British Wind Energy Association) and SRF (Scottish Renewables Forum), under the learned society patronage of The Society for Underwater Technology, with Aberdeen City Council as its Principal Sponsor, Shell as Gold Sponsor, The Carbon Trust as Silver Sponsor and Airtricity as Bronze Sponsors.
Other supporting organisations are Aberdeen and Grampian Chamber of Commerce (who will be holding their traditional opening morning Business Breakfast on 24 May - information at www.agcc.co.uk); AREG - the Aberdeen Renewable Energy Group; British Hydropower Association; DTI; Energy Industries Council; Energy Institute; Highlands & Islands Enterprise; IMarEST - Institute of Marine Engineering, Science and Technology; IMCA - International Marine Contractors Association; IPA - Industrial and Power Association; Micropower Council; OCA - Offshore Contractors Association; REA - Renewable Energy Association; SCDI - Scottish Council for Development and Industry; Scottish Enterprise; Scottish Executive; Scottish Hydrogen & Fuel Cell Association; Scottish Solar Energy Group; and The Press & Journal's "Energy" as official publication. All organisations associated with All-Energy work with the organisers to ensure that the conference presents as up to date picture of the industry as possible. "We are extremely grateful for their invaluable input," says Judith Patten.
Registration and further information
Online registration is now open at www.all-energy.co.uk and the website features not only the constantly updated exhibitor list and conference programme, but information from exhibitors on what they are showing at www.all-energy.co.uk/what.php - a preview that is building day by day and offers visitors the opportunity to plan their visit in advance.
Further information on all aspects of the show is available on the website or from info@all-energy.co.uk or +44 (0)20 8241 1912.
ENDS
Featured Product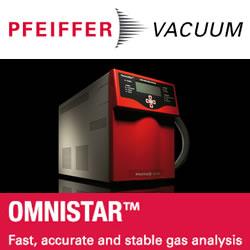 The Pfeiffer Vacuum OmniStar benchtop analysis system offers you a compact footprint, powerful software and Ethernet connectivity. It's the optimum solution for many real-time gas analysis applications. With the OmniStar, Pfeiffer Vacuum offers you a complete solution for gas analysis, in chemical processes, semiconductor industry, metallurgy, fermentation, catalysis, laser technology and environmental analysis. The turnkey OmniStar gas analysis system consists of heated, temperature-regulated gas inlet system, Quadrupole mass spectrometer, a dry diaphragm vacuum pump and HiPace turbopump. Unlike competing methods such as FTIR, OmniStar is suitable for qualitative and quantitative analysis of most gases.