It's time to discuss some fundamental issues relating to clean affordable energy for the long term: What technology? How much of it? What is it going to cost? The time to act is now
On 23 January the Secretary of State and the Minister for Energy launched the Energy Review consultation document "Our Energy Challenge: securing clean, affordable energy for the long term". One thing was made clear - the time to act is now.

The past year has seen a welter of initiatives on climate change and renewable energy - the G20, the G8, the Asia-Pacific Pact - all have talked up the tech route to tackling greenhouse gas emissions, without specifying, quantifying or pricing the technologies that will be needed to secure efficient forms of renewable energy.
"It's time for the industry to have something more concrete," says Robert Tudway of Nabarro Nathanson. "It's time to discuss some fundamental issues: What technology? How much of it? What is it going to cost? These are the topics that will be discussed at a one day conference in central London on 21 June."
The Low Carbon & Renewable Energy (LCRE06) being held at Lacon House, in Holborn, London, hosted by Nabarro Nathanson and organised by dmg world media (uk) ltd aims to answer those timely questions and to provide an opportunity for delegates to debate, learn, meet and network with the UK's leading commercial experts on low carbon and renewables. "With only 80 delegate places available there will be opportunities in plenty to meet those really 'in the know'," explains John Whitaker, Vice President of dmg.
Following an opening keynote address, a scene setting panel discussion on the Government's Energy Review will be held involving Dr Anthony White MBE of Climate Change Capital, Russell Marsh of the Green Alliance, Lewis Gillies of BP Alternative Energy, Keith Jowett of the Airport Operators Association, Allan Jones MBE of the London Climate Change Agency (GLA) and a speaker from EdF Energy. The members of the panel are being asked to address specific questions:
· What are the practical options for achieving the reductions in carbon output the Government is expecting?
· What are the barriers (whether legal, regulatory or matters of industry structure) that stand in the way of adopting one or more of those options?
· What policy decisions does the government need to include in its policy framework to remove or reduce them?
Other sessions look at GLA (Greater London Authority) and property development; supply side technologies; investing in the future; emissions trading; the maximum proportion of our energy needs that can be expected from renewables by 2020; and security of supply.
Session by session
Allan Jones MBE, CEO, London Climate Change Agency (GLA) will address the subject of the GLA and property development looking at how successful the Mayor of London's Energy Strategy has been, what the benefits and costs are to property developers of incorporating PV-cells, GSHPs etc in their new-build; and what the GLA and LCCA should be doing to encourage and support this.
Lewis Gillies, Managing Director, Hydrogen for Power, BP Alternative Energy will give his views on which supply-side technologies are likely to offer the greatest return: wind power, combined heat and power, biomass, hydrogen as a fuel, fuel cells, solar, wave….. and will address such questions as:
· How are the different technologies to be assessed?
· Who would do the assessing?
· How could business be persuaded to adopt the conclusions?
Investing in the future is the topic Dr Anthony White MBE, Head of Advisory, Climate Change Capital will address with particular reference to the risks of investing in renewable/low carbon technologies and the dangers of not doing so. "There is a particularly striking quote from Henderson Global Investors about which we are reminding delegates," says Lynne Evans, Conference Producer.
"If the UK government's estimate of the marginal damage of a tonne of carbon is used, as much as 12% of FTSE 100 EBITDA could be at risk, with 26 companies having a carbon exposure greater than 10% of EBITDA. The extent of this risk depends on the pace of regulatory measures, the dynamics of market competition and reputational pressures to improve carbon management."
Russell Marsh, Head of Policy, Green Alliance; and Keith Jowett, CEO, Airport Operators Association will address emissions trading. A cap and trade scheme for SO2 was set up in the United States in the 1990s by the revision of the Clean Air Act. The target was to reduce emissions to 50% of 1980's 17.5 million tons. It is now confidently predicted the emissions will be reduced to 9 million tons by 2010. Can the EU ETS do the same for CO2? Questions being addressed in this session will include:
· How successful has the EU ETS been so far?
· What, if any, problems have been encountered and how have they been overcome?
· What is the outlook for the future, especially in Phase II?
Sweden expects to be oil free within 15 years…Germany is making great strides…. What is the maximum proportion of UK energy needs can we expect from renewables by 2020 is the topic to be addressed by EdF Energy, whose speaker will look at the means for reaching the government's aspirations of 20% of energy from renewable sources by 2020. Sources, obstacles - identifying them and overcoming them; and seeing where we will get if we continue the way we're going will all be discussed.
Security of supply is a crucial topic and winds up the conference. Our current dependence on imported gas, especially from Russia, is seen as a reason for moving to nuclear, but aren't the arguments in favour of nuclear the same as those for moving to renewables? Malcolm Grimston, Head of Nuclear Policy, Chatham House and Roger Higman, Senior Campaigner, Friends of the Earth will answer that question and look at the costs and benefits of both the nuclear and renewables options.
About Nabarro Nathanson
Nabarro Nathanson is a top 20 law firm with extensive expertise in all key areas of law. The firm has over 100 partners and 360 fee earners, based in offices in London, Sheffield and Brussels, allowing them to be flexible in resourcing client teams. Their commitment to developing long-term, collaborative relationships with their clients ensures they deliver tailored, commercial solutions that support their objectives.
Their Energy Group comprises six partners and 16 lawyers covering the disciplines required in respect of its energy practice. The practice is known for its involvement in climate change and energy and their clients are well represented in the consumption, production, distribution and promotion of low carbon energy and renewables, through the construction and operation of low carbon energy and renewables schemes.
The Nabarro Nathanson Energy Team is led by Robert Tudway, a leading figure in the legal aspects of climate change and energy, and described by the 'Legal 500' (the leading legal services directory) as having "a great standing among energy and projects lawyers for electricity and regulatory work. His team is unique, focusing on environmentally sound projects, such as combined heat and power."
Further information
Further information on LCRE06 is available from www.lcre.co.uk and from dmg world media (uk) ltd, Westgate House, 120/130 Station Road, Redhill, Surrey RH1 1ET, UK
Tel: +44 (0) 1737 855000; Fax: +44 (0) 1737 855482; Email: info@lcre.co.uk
Featured Product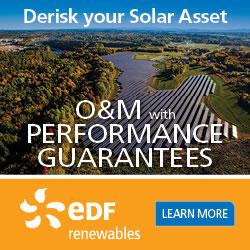 EDF Renewables offers the same innovative solutions that maximize the performance of our own 5.2 GW of installed projects. Because we're not an equipment manufacturer, our recommendations are transparent and data-driven. We cover the entire project lifecycle: from pre-commissioning support, through warranty and post warranty operation, to late stage and decommissioning.