The Renewable Energy and Energy Efficiency Partnership (REEEP) announced the opening of its ninth Regional Secretariat yesterday at the Australian Business Council for Sustainable Energy's annual conference in Brisbane
The new Regional Secretariat will cover the South East Asia and Pacific region and it strengthens REEEP's coverage across Asia. REEEP has already established regional secretariats for South Asia based in New Delhi and for East Asia, based in Beijing.

The South East Asia and Pacific Regional Secretariat is funded by the Australian Government through the Australian Greenhouse Office. The Australian Business Council for Sustainable Energy will operate the Regional Secretariat out of Melbourne in an agreement with the Australian Government.
Announcing the development Mr Ric Brazzale, Executive Director of the Australian Business Council for Sustainable Energy said: "The Regional Secretariat will develop regional networks to harness industry knowledge available in South East Asia and the Pacific at ground level, while providing an immediate channel to the 30 governments and the other 130 businesses and NGOs which are partners of the REEEP."
For the REEEP, Dr Marianne Osternkorn International Director said: "The REEEP welcomes the leadership taken by the Australian Government to finance a hub for the region. The Australian experience in city twinning initiatives and particularly in solar will be extremely useful for our partners."
The new Regional Secretariat will oversee a series of regional sustainable energy and energy efficiency projects aided by the REEEP in partnership with Australian industry. It is anticipated that the Australian Government's commitment will promote supportive policy and innovative financing to effectively lower risk in the marketplace for the promotion of clean energy products and suppliers.
The South East Asia and Pacific Regional Secretariat will also foster sustainable energy networks in the region, using a 'bottom-up' collaborative approach, so that knowledge and experience can be exchanged with similar networks established by REEEP in other parts of the world.
This strategic networking is expected to result in legislative and regulatory frameworks that will attract finance to the sector. "The intra-country link will allow for replication and scale-up of proven models between countries around clean energy policy, regulation and finance," stated Mr. Brazzale.
Ms Amy Kean has been appointed REEEP Regional Manager. Ms Kean has a strong background in renewable energy and energy efficiency policy development and program implementation.
"REEEP allows the region to address issues of energy access and energy security. Helping developing countries and economies in transition integrate renewables as part of the energy mix will bring both economic and social benefits to the region," stated Ms Kean.
Background notes:
The Australian Business Council for Sustainable Energy represents the broader sustainable energy industry in Australia with 260 member companies covering renewable energy, gas and energy efficiency.
It is estimated that the sustainable energy industry in Australia accounts for $5.7 billion in annual sales (more than $400 million in export sales), and employs more than 20,000 people.
Contact:
Amy Kean 0403 247 212 email Amy.Kean@reeep.org
Dorothy Cook 03 9349 466 377, mob 0401 466 377, email dorothy@bcse.org.au
Featured Product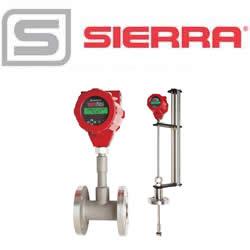 Sierra was the first to introduce a combination volumetric vortex and multivariable mass flow meter in 1997. Today, Sierra's completely redesigned InnovaMass® iSeries™ 240i/241i builds on two decades of success measuring five process variables for gas, liquid and steam with one connection. Now, with the latest hyper-fast microprocessors, robust software applications, field diagnostic and adjustment capability, and a new state-of-the-art flow calibration facility, Sierra's vortex iSeries delivers precision, performance, and application flexibility never before possible.