A $6 million project is breaking ground this week in Brockton, Mass., and will be the first all-solar, new condominium construction project in New England, according to Johnson Square Builders, the developer.
BROCKTON, Mass., May 11, 2006 - A $6 million project is breaking ground this week in Brockton, Mass., and will be the first all-solar, new condominium construction project in New England, according to Johnson Square Builders, the developer. Each of the townhouses at Johnson Square Village will have its own designated PV (photovoltaic or solar) systems that will save residents nearly $600 a year on energy costs.
Johnson Square Village will comprise seven residential buildings for a total of 26 townhouses. Each unit will feature an 18-panel, 3.24 kilowatt (kW) solar array that will harness the sun's energy to power appliances, computers, TVs and other electronics. The PV systems are expected to generate 4,212 kilowatt-hours (kWh) per year, based on New England's climate. According to Conservation Services Group (CSG), designer of the PV systems, solar output on each home will provide more than 60 percent of the home's electrical usage.
Townhouses at Johnson Square Village will be priced starting at $214,900, which includes the entire cost for the PV system. The model home and the first building are
scheduled for completion this July. The remainder of the project will be completed by early 2007.
Support for the Johnson Square Village project is provided by the Massachusetts Technology Collaborative (MTC) and CSG. Last month, the MTC awarded Johnson Square Builders a $458,300 grant from the Renewable Energy Trust to help defray the cost of the panels and the installation. According to Trust Director Warren Leon, "This project addresses two critical needs in the Commonwealth -- housing and energy -- by creating healthier new, affordable homes for families and generating clean electricity that produces no harmful emissions. Working with partners like the City of Brockton, CSG and Johnson Square, we hope to change the way homes, schools and businesses are built, so that green construction becomes the standard throughout Massachusetts."
CSG CEO Stephen Cowell said, "This project dispels the myth that solar is too expensive for most people to own. Through the MTC's grant, we are able to design a project that is affordable and will help residents cut energy costs. Most importantly, by purchasing a home at Johnson Square Village, residents will be supporting the PV industry in Massachusetts."
Brockton Mayor James Harrington is excited that his city is hosting the first new, 100 percent solar condo project in the region. He said, "Brockton, throughout its history, has always been at the forefront of innovation and discovery. We are thrilled that Johnson Square Village chose Brockton to bring forth such a noteworthy project that will once again elevate our great city into the pantheon of history."
Johnson Square Village will be ENERGY STAR®-rated, meeting the U.S. Environmental Protection Agency's (EPA) guidelines for maximum energy efficiency. The project will also be LEED®-certified. (LEED stands for Leadership in Energy and Environmental Design and is a program of the U.S. Green Building Council.)
In addition to featuring solar energy, Johnson Square Village will have high efficiency heating systems with programmable controls and double paned low-e windows. Another
environmental feature of the project is a rain water containment system that will be used for irrigation.
ENERGY STAR-qualified homes are at least 15 percent more energy efficient than a standard built home, but depending on the installed energy features, these homes can often save significantly more energy. "Combined with the savings realized from generating solar energy, residents will be saving more than 50 percent on their energy costs every month," says John Livermore, ENERGY STAR Homes program manager at CSG.
Johnson Square Builders, LLC, is based in Brockton, Mass. CSG, of Westborough, Mass., administers the ENERGY STAR Homes new construction program and also trains builders, electricians and technicians on how to install and maintain PV systems. The PV panels are manufactured by Evergreen Solar, Inc., of Marlborough, Mass. The homes at Johnson Square Village are listed through Premier Properties of Brockton and financed by the Community Bank of Brockton.
CSG has been providing energy saving strategies and technologies to consumers and businesses nationwide since 1984. To find out more about ENERGY STAR Homes, visit www.energystarhomes.com. To learn more about CSG, log onto www.conservationservicesgroup.com.
Featured Product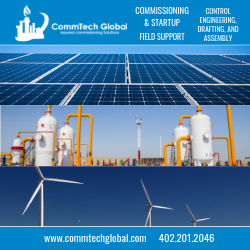 CommTech Global Solutions, LLC, provides professional and reliable commissioning services to customers in all realms of the energy industry. We blend our skills in engineering and technology with innovative business models, offering a complete range of services to assist you for a successful and in compliance operational startup. Consolidation of all our service domains gives our clients a comprehensive set of expertise and far-reaching experience on each project.