Panel To Discuss Portable Fuel Cells: Are They Ready To Market Now?
FOLSOM, CA - May 25, 2006 -- Jadoo Power Systems Inc. (Jadoo) www.jadoopower.com, the leading supplier of portable fuel cell power systems, announced today that Larry Bawden, Chief Executive Officer and President, will participate on a discussion panel at the 34th Annual Cowen Technology Conference on May 31, 2006 at 11:00am EST. This event will be held at the New York Palace Hotel in New York City, 455 Madison Avenue.

The Cowen Technology Conference will assemble more than 200 of the most dynamic technology companies focused on topics, such as: "Rebalancing the US Energy Portfolio," "Offshore Outsourcing," and "Investment Opportunities in Alternative Energy."
Jadoo Power -- Leader in Portable Fuel Cell Shipments
As the leader in fuel cell shipments to the portable market for over two years, Jadoo plans to answer questions on the challenges of bringing commercialized fuel cell technology to market and delivering modular, mission-critical "off-grid" power solutions to various markets, such as First Responders, Portable Office users, and Professional Broadcasters.
About Jadoo Power Systems
www.jadoopower.com
Jadoo Power Systems, Inc. is a market-focused company that develops and sells next-generation, portable energy storage and power generation products. Jadoo is financed by Mohr Davidow Ventures, Venrock Associates and Sinclair Ventures, a wholly owned subsidiary of Sinclair Broadcast Group, Inc.
For more information about Jadoo Power Systems, please contact:
Jadoo Power Systems, 181 Blue Ravine Road, Folsom, CA 956030
Phone: (916) 608-9044 Fax: (415) 532-1426 Email: info@jadoopower.com.
For press release, click: http://www.thomas-pr.com/pressreleases/jadoocowenrelease.html
For photo of Larry Badwen, CEO, Jadoo Power, click: http://www.thomas-pr.com/136/photos/jadoobawden.html
Agency Contact:
Karen Thomas
Thomas PR
(631) 549-7575
kthomas@thomas-pr.com
http://www.thomas-pr.com
Featured Product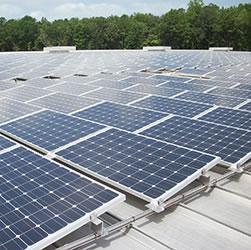 The Power Rail™ Commercial Mounting System is designed with the professional PV solar installer in mind. Both the XD/UD and LD/MD rails feature single tool assembly with the revolutionary patented RAD™ Lock-in-Place bolt for fast and secure module clamping. The high strength marine-grade aluminum rails include an integral wiring channel for securing cables and providing a professional finish.