A solar hot water system will be installed at the pre-SolWest workshop July 26-27. Hot water is the largest energy use in a home after heating/cooling. The owners wish to conserve resources by using the sun to heat water. The seminar is open to people interested in all aspects of solar hot water.
A solar hot water system will be installed at the 2006 pre-SolWest hands-on workshop July 26 & 27, 2006 in John Day, Oregon. Hot water is normally the largest energy consumer in a home after home heating and cooling. The owners of the home and B&B business wish to conserve financial and energy resources by using the sun to heat the water that is used for showers, dishes, and laundry. The seminar is open to people interested in all aspects of solar hot water.

Students will install a whole house domestic solar hot water system, consisting of a 56 square foot collector on the roof circulating freeze-proof heat transfer fluid, a 120-gallon solar storage tank with built in double-wall heat exchanger, and a 30-watt photovoltaic module which powers the 12 volt DC pump that circulates the fluid when the sun is shining on the panel. Classroom sessions (open-air if weather permits) will cover an overview of system types, theory, selection and design of solar hot water systems, and Oregon Energy Tax Credits. Issues and decisions will be discussed, as well as long-term planning and breaking a project into manageable steps. Instructor John Patterson is owner of Mr. Sun Solar in Portland, Oregon, a full-service renewable energy company. He has extensive thermal systems engineering experience, as well as a thorough knowledge of manufacturing and production processes.
SolWest Renewable Energy Fair July 28-30, 2006 in John Day, Oregon is the most comprehensive sustainable living fair in the northwest. Experts from all over the western US offer fifty workshops for all ages and levels of expertise (free with fair admission). Workshop topics scheduled for this year include "Living Offgrid without a Generator," "Introduction to Hydrogen," "Weatherization Wizardry," "Solar Applications in the Northwest," "Solar Cookery," "Home-made Solar Water Heater," "Money from the Sun, " and "Configuring Your Wind System." The keynote address, "Relocalizing our Communities" by Deborah Lindsay (co-founder of Sustainable Monterey County) will focus on opportunities for those who feel that education and community building are critical elements of sustainability.
Over two thousand people visit SolWest each year to learn about and purchase complete solar power systems and components, solar hot water systems, solar pumps and wind-driven pumps, pump controls, hydro systems suitable for the smallest springs to large streams, solar roofing and home plans, home-scale wind generators, efficient lighting and appliances, books and magazines, biodiesel processors and fuels, and much more.
Activities during SolWest weekend include Electrathon mini-electric car racing, and a Silent Auction of renewable energy hardware and other donated goods. Childcare and children's workshops will be offered. Anyone who brings an alternatively-fueled vehicle to display at SolWest Fair will get a weekend pass for the price of a day pass. Camping is available, and volunteers get in and camp free.
The SolWest Fair program is posted on the web at www.solwest.org, or a paper copy can be requested at:
SolWest/EORenew, PO Box 485, Canyon City OR 97820. 541-575-3633 or info@solwest.org.
Featured Product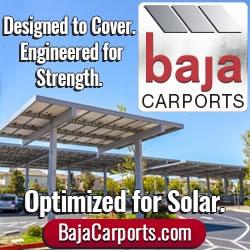 Baja Carports offers an extensive solar support system product line customized to customers' site specifications by in-house engineers, meeting their parking lot coverage, plus optimal PV production needs. Baja's Full Cantilever Tee is often paired with its Semi and Full Cantilever carports to meet live/loads up to 60psf and wind speeds to 160mph. All Baja products are pre-fabricated, bolted connections, pre-galvanized structural steel for fast on-site installation and project aesthetic requirements."