Performance Contracts Guarantee Energy and Operational Savings, Boost Efficiency and Improve the Learning Environment
MINNEAPOLIS, June 19, 2006 - Honeywell (NYSE: HON) today announced that it has been awarded $8.8 million in contracts to upgrade building systems and reduce energy costs in four Illinois school districts: Schuyler-Industry School District in Rushville, Paw Paw School District in Paw Paw, Butler School District in Oak Brook and Ridgeview School District in Colfax. The districts will fund the improvement from the energy and operational savings they produce. And the savings are guaranteed by Honeywell under a performance contract — which varies in length depending on the work and projected payback — with each district.

"Buildings require major investments over the course of their lives, but like many districts, we haven't had the funding to make necessary changes," said Matt Plater, superintendent of Schuyler-Industry School District. "Our contract with Honeywell allows us to make improvements that provide optimal comfort and efficiency. As energy costs continue to rise, the return on investment increases."
As part of a 20-year, $2.3 million performance contract with Schuyler-Industry, Honeywell will provide capital upgrades to the district's high school. The work is expected to cut energy costs by 25 percent, and includes the replacement of a 50-year-old steam boiler with a new heating, ventilation and air conditioning (HVAC) system. Honeywell also will install its Enterprise Building Integrator (EBI), a management platform that integrates core building functions. EBI will allow the school to control the environment of each classroom from a single workstation, increasing comfort for students and productivity for facility personnel.
In addition, Honeywell will replace all windows at the high school, which comprise almost half of the building's exterior surface, with double-pane, energy-efficient windows. This and other improvements will limit excess drafts, and reduce heating and cooling losses.
For the Paw Paw School District, Honeywell will provide $1.98 million in capital upgrades for three schools (high school, middle school and an elementary school) through a 20-year performance contract. Among the enhancements are high-efficiency lighting, thermal windows and window wall systems, new exterior entrance doors, an updated HVAC system with redundant, high-efficiency hot water boilers, and a temperature control system for classroom energy management.
"From an energy standpoint, we needed new and effective measures to make the building more efficient," said Paw Paw Superintendent Robert Priest. "We've replaced our old methods, such as keeping the shades drawn in the winter to keep out the cold, with practical and reliable improvements that will result in big savings."
At Ridgeview, Honeywell is providing capital upgrades as part of a 20-year, $3.66 million performance contract to three schools (high school, middle school and an elementary school). The district used state-provided School Fire Prevention and Safety Bonds to pay for a majority of the upgrades, which include new double-pane, energy-efficient windows, a new HVAC system with an emergency generator, electrical upgrades, new lighting and drop ceilings, a new temperature control system, and a code-compliant fire alarm system.
Honeywell's 10-year, $874,000 performance contract with the Butler School District will provide capital upgrades to two elementary schools. Work at one of the schools involves updating the HVAC system and sealing the building envelope around the foundation, roof and walls to minimize air leakage. The other school will receive new windows and doors, as well as seals between classrooms that should produce substantial energy savings and improve acoustics.
Honeywell will complete work in the main academic areas of all affected buildings before the back-to-school period in August 2006.
"Despite the reality of tight budgets, aging infrastructure and rising energy costs, school districts have options when it comes to improving their facilities and operations," said Joe Puishys, president of Honeywell Building Solutions. "Through performance contracts, Honeywell is helping districts create more comfortable and effective learning environments without impacting budgets."
Honeywell International is a $30 billion diversified technology and manufacturing leader, serving customers worldwide with aerospace products and services; control technologies for buildings, homes and industry; automotive products; turbochargers; and specialty materials. Based in Morris Township, N.J., Honeywell's shares are traded on the New York, London, Chicago and Pacific Stock Exchanges. It is one of the 30 stocks that make up the Dow Jones Industrial Average and is also a component of the Standard & Poor's 500 Index. For additional information, please visit www.honeywell.com. Honeywell Building Solutions is part of the Honeywell Automation and Control Solutions business group, a global leader in providing product and service solutions that improve efficiency and profitability, support regulatory compliance, and maintain safe, comfortable environments in homes, buildings and industry. For more information about Building Solutions, access www.honeywell.com/buildingsolutions.
# # #
This release contains "forward-looking statements" within the meaning of Section 21E of the Securities Exchange Act of 1934. All statements, other than statements of fact, that address activities, events or developments that we or our management intend, expect, project, believe or anticipate will or may occur in the future are forward-looking statements. Forward-looking statements are based on management's assumptions and assessments in light of past experience and trends, current conditions, expected future developments and other relevant factors. They are not guarantees of future performance, and actual results, developments and business decisions may differ from those envisaged by our forward-looking statements. Our forward-looking statements are also subject to risks and uncertainties, which can affect our performance in both the near- and long-term. We identify the principal risks and uncertainties that affect our performance in our Form 10-K and other filings with the Securities and Exchange Commission.
Featured Product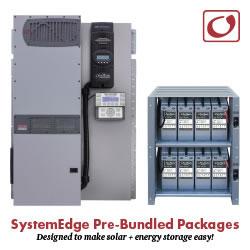 Each pre-bundled package is designed to make solar plus energy storage easy. By combining OutBack's most popular FLEXpower pre-wired systems with matched OutBack energy storage, SystemEdge takes the guesswork out of installing solar plus storage. Every SystemEdge package includes a FLEXpower factory pre-wired system, application-specific EnergyCell batteries and racking, FLEXware ICS Plus combiner and all the necessary connection hardware.