New Program Offers 14-Day Turnaround for Custom Configurations to Support Systems Requiring Up to 540 Volts
San Diego, CA — Maxwell Technologies, Inc. (Nasdaq: MXWL) today unveiled a new "Quick-Turn" BOOSTCAP® ultracapacitor module program that offers shipment within 14 days of receipt a customer purchase order for custom-configured multi-cell energy storage and power delivery solutions for systems requiring up to 540 volts.

Dr. Richard Balanson, Maxwell's president and chief executive officer, said that the Quick-Turn program leverages standard modular building blocks and proprietary balancing, monitoring and thermal transfer technologies to establish a new industry standard for flexibility and responsiveness to customer requirements.
"Global demand for ultracapacitor-based solutions is real and growing, and we continue to move aggressively to capitalize on Maxwell's technology leadership to become the supplier of choice for transportation and industrial manufacturers," Balanson said. "By eliminating the complexity and long lead times that system designers frequently encounter when they want to evaluate and prototype ultracapacitors solutions, we are facilitating and accelerating development of new applications that have the potential to drive high volumes in the years ahead."
Michael Everett, Maxwell's vice president and chief technology officer, said that custom Quick-Turn modules based on the BCAP2600 2,600-farad Energy and Power cells are immediately available, and that additional options based on the entire MC family of products, ranging from 650 to 3,000 farads will be phased in, beginning in the third quarter. Quick-Turn module pricing will be quoted on a fixed fee basis for quantities of one to five units.
Maxwell also offers a complete line of standard, 15- to 48-volt multi-cell packs and modules based on the company's Power- and Energy-type ultracapacitor cells. Both standard and Quick-Turn modules are encased in rugged, splash-proof aluminum chassis and include internal cell balancing that give designers "plug and play" solutions, plus module-to-module balancing that makes them versatile building blocks for systems with higher voltage requirements.
All BOOSTCAP cells with a capacitance of 650 farads or greater operate at 2.7 volts, enabling them to store more energy and deliver more power per unit volume than any other commercially available ultracapacitor products.
"All of these products meet or exceed demanding transportation and industrial application requirements for both watt-hours of energy storage and watts of power delivery per kilogram and will perform reliably for more than one million discharge-recharge cycles," Everett said. "The proprietary architecture and material science on which BOOSTCAP products are based also significantly reduce manufacturing cost, positioning Maxwell to compete favorably with batteries and other energy storage technologies."
Forward-Looking Statements
Statements in this news release that are "forward-looking statements" are based on current expectations and assumptions that are subject to risks and uncertainties. Actual results could differ materially because of factors such as:
• development and acceptance of products based on new technologies;
• demand for original equipment manufacturers' products reaching anticipated levels;
• general economic conditions in the markets served by the company's products;
• cost-effective manufacturing of new products;
• the impact of competitive products and pricing;
• risks and uncertainties involved in foreign operations, including the impact of currency fluctuations;
• product liability or warranty claims in excess of our reserves.
For further information regarding risks and uncertainties associated with Maxwell's business, please refer to the "Management's Discussion and Analysis of Financial Condition and Results of Operations" and "Risk Factors" sections of our SEC filings, including, but not limited to, our annual report on Form 10-K and quarterly reports on Form 10-Q. Copies of these documents may be obtained by contacting Maxwell's investor relations department at (858) 503-3434 or at our investor relations website at http://www.maxwell.com/company/investors/sec_filings.html
All information in this release is as of June 20, 2006. The company undertakes no duty to update any forward-looking statement to conform the statement to actual results or changes in the company's expectations.
Contacts:
Media & Investors: Michael Sund, +1 (858) 503-3233; email: msund@maxwell.com
Sales & Technical - No. America: Bobby Maher +1 (858) 503-3331, email: bmaher@maxwell.com
Sales & Technical - Europe: Raphael Waeber +41 79 750 3943, email: rwaeber@maxwell.com
Sales & Technical - Asia: Brian Eichler +1 (858) 503-3326, email:beichler@maxwell.com
Note to editors:
Link for BOOSTCAP product images: http://www.maxwell.com/editors
Maxwell is a leading developer and manufacturer of innovative, cost-effective energy storage and power delivery solutions. Our BOOSTCAP® ultracapacitor cells and multi-cell modules and POWERCACHE® backup power systems provide safe and reliable power solutions for applications in consumer and industrial electronics, transportation and telecommunications. Our CONDIS® high-voltage grading and coupling capacitors help to ensure the safety and reliability of electric utility infrastructure and other applications involving transport, distribution and measurement of high-voltage electrical energy. Our radiation-mitigated microelectronic products include power modules, memory modules and single board computers that incorporate powerful commercial silicon for superior performance and high reliability in aerospace applications.
Media and Investors Contact:
Michael Sund
Maxwell Technologies
Phone: +1 (858) 503-3233
Email: msund@maxwell.com
Featured Product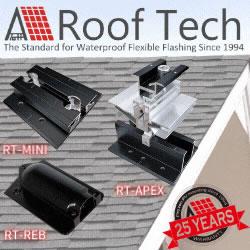 Now Roof Tech brings you the most innovative, watertight mounting systems ever developed for solar photovoltaic systems. Designed and manufactured exclusively for us by Japan's longtime leader in roofing technologies, Roof Tech products are 100% code-compliant and offer fast, simple installation and huge savings on shipping costs due to their compact, rail-less design. Learn more about our full line of versatile PV mounting solutions now available for residential installations. The next generation in rooftop solar mounting solutions."