The Energy and Environmental Security Initiative (EESI), an interdisciplinary center at the University of Colorado Law School, announced today the unveiling of an online global database of international energy treaties.
Sponsored by the Renewable Energy and Energy Efficiency Partnership (REEEP), the database is called the International Sustainable Energy Assessment (ISEA) and contains in-force energy treaties from all 192 countries in the world dealing with some 45 energy-related subject areas.

Commenting on the launch of the ISEA database, U.S. Senator Richard Lugar (R), Chairman of the Senate Foreign Relations Committee, remarked: "This is an invaluable database. It will be a useful tool in our diplomatic efforts to chart a sustainable energy future with our international partners." Senator Lugar recently introduced the Energy Diplomacy and Security Act (EDSA) in the U.S. Senate, which has garnered bipartisan sponsorship from eleven U.S. senators. The EDSA seeks to use new and existing international agreements to enhance energy security and promote the use of sustainable energy.
According to Dr. Lakshman Guruswamy, EESI Director and CU Law's Nicholas Doman Professor of International Environmental Law, the genesis of the ISEA project "arose out of the recognition that the challenges in moving to a more sustainable global energy regime cannot be solved by any one nation and must entail international engagement and cooperation."
Morgan Bazilian, REEEP Programme Board Chair, remarked that "international agreements have the ability to profoundly impact renewable energy and energy efficiency activities. These instruments play a critical role by supporting markets, facilitating technology transfer and capacity-building, and reducing financial barriers. The ISEA project gives us an essential analytical baseline for understanding what's happening in the world of international agreements relative to energy technologies—and enables us to take the next step of figuring out the best ways of using these instruments to facilitate the growth of renewable energy and energy efficiency activities."
An impressive amount of work went into building the ISEA database. For more than a year, a team of EESI researchers identified and analyzed tens of thousands of international agreements. The researchers first spent months pulling together international agreements from around the world—focusing particularly on China, India, the European Union and the United States. They then reviewed every single agreement, determining which of them were relevant enough to include in the database. For those agreements included, the researchers carefully analyzed each agreement, coding them by subject areas, obligations, financial mechanisms, implementing methods, institutional arrangements and other relevant criteria.
At present, there are two versions of the ISEA database: an internal, password-restricted version that contains all 1,700 agreements—of which the United States is party to approximately 1,100—and a free public version that contains about 500 agreements. Project Manager Kevin Doran explained, "The internal database is a kind of holding-bin. After we've thoroughly researched and analyzed a treaty, we then pass it into the public database where anyone can access the information. We plan to have all 1,700 agreements available on the public site in the next six months. But in the meantime, we're happy to provide information on the treaties in the internal database on request."
The ISEA database covers a wide array of energy subjects. Energy markets, electricity infrastructure, renewable energy, energy efficiency, and hydrogen are just a few of the subject areas dealt with in the database. Users of the public database are able to search for agreements using basic and advanced search options, including a "subject-tree" that allows users to navigate to treaties dealing with a given subject area. For instance, by clicking on Energy Efficiency users are presented with links to treaties dealing with energy efficiency in Buildings, Industry, Power Generation and Transportation.
According to Doran, the public database currently has 94 international agreements dealing with renewable energy technologies—with 40% of these agreements addressing solar energy. The remainder of the renewable energy category is made up of agreements dealing with hydropower (23%), wind (11%), bioenergy (11%), and geothermal (11%).
The ISEA public database is available through the following web address: http://lawweb.colorado.edu/eesi/. Technology support for the project was provided by Anthum Solutions, LLC, of Denver, Colorado.
Next Steps
EESI has begun strategizing on how to improve and expand the ISEA database. Future plans for the project include developing an online, controlled-access "wiki-system" enabling pre-approved experts throughout the world to contribute to the database; and expanding the database to include partnerships—such as the Asia-Pacific Partnership on Clean Development and Climate—and "soft law" instruments such as declarations, resolutions and charters. "It is extremely difficult to obtain reliable facts and information pertaining to the implementation and impact of the agreements in our database," explained Dr. Guruswamy. "Our distributed online system will enable experts including academics, government personnel, international institutions, and civil society representatives to provide us with that information for both hard and soft law instruments." The EESI team also plans to link its database to REEGLE—the online information gateway for renewable energy and energy efficiency recently launched by REEEP and the Renewable Energy Policy Network for the 21st Century (REN21).
Contact
Kevin Doran
Energy and Environmental Security Initiative
1-303-492-5127
Email: dorank@colorado.edu
Featured Product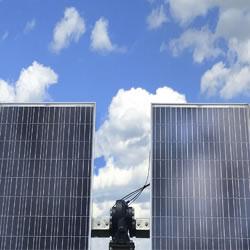 Solar FlexRack's latest solar tracker technology bundles an advanced tracker design with a full team of seasoned engineering and installation experts at your service. The next-generation solar tracker delivers a package of features that both enable increased energy yields for commercial and utility-scale solar installations, and significantly reduce project risks. That translates to smart installation cost-savings across your project budget.