Spothunter.com is the world-wide market place for electronics, heating and solar components on the internet. At the closed market place, manufacturers, retailers, vendors and system providers meet with installers from the electronics, heating, plumbing, air condition and solar industry.
Germany - The German market for photovoltaic lay up to the yearly half far behind expectations of many dealers and installers. Due to a long bad weather period and continuously high prices for solar modules, approximately as much solar power could not be sold as planned up to the yearly half. "Stocks are full, the demand at the German photovoltaic market is restrained." says Daniel Koepf, General Manager at Spothunter.com. The market for large-scale installations in Germany is almost to succumbs come. Institutional and private investors put their activities due to a lower rate of return for this year on hold.

"A majority of the investments flows due to more attractive conditions into Spanish large-scale projects." says Koepf. The market for single family houses seems to be almost stabile.
A way out for the second yearly half lies in the export, because solar modules became world-wide an attractive trading good. Spothunter.com offers enterprise, who have not used export possibilities, yet a broker service for solar components. So attractive positions up into the megawatt range can be obtained by world-wide contacts to manufacturers, wholesale dealers and installers.
Also with the search for solar modules assaulted or with difficulty available Spothunter.com is helpful. A network at international contacts is constant on the search for special quotas and residues.
Featured Product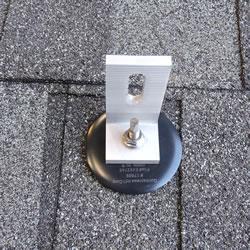 The QuickBOLT is THE affordable mounting solution for Asphalt Shingle Roofs. Not only is it the lowest cost system in the industry, it also maintains the fastest install time of any mounting system available. Unlike other Asphalt Mounting systems that require bulky flashing, the QuickBOLT uses a small EPDM washer and is 100% waterproof! Part # 17672