Engineered with a Sloped Angle, PowerTiltTM Maximizes Sun Exposure for Increased Electrical Output
PowerLight Corporation Unveils PowerTiltTM Solar Power System

Engineered with a Sloped Angle, PowerTiltTM Maximizes Sun Exposure for Increased Electrical Output
DENVER, CO, JULY 2006 - Today at the American Solar Energy Society (ASES) conference, PowerLight Corporation, a leading global provider of large-scale solar power systems, introduced its new PowerTiltTM Solar Power System. "PowerTilt draws on the same features as our flagship, groundbreaking solar roof product, PowerGuard®—the first commercially available solar power system to be deployed without rooftop penetration," said PowerLight CEO and chairman Tom Dinwoodie. This next-generation product was engineered with a sloped- angle design so that the solar photovoltaic module can leverage maximum exposure to sunlight for increased electrical output. "With the increased insolation and enhanced performance that PowerTilt delivers, customers will realize lower utility bills and a quick return on their solar investment."
PowerTilt features pre-engineered solar modules that tilt at a 10-degree angle to maximize energy capture. These non-penetrating modules interlock for secure, rapid installation on rooftops without compromising the building envelope. Made of durable, lightweight materials, the PowerTilt solar array design resists high winds up to 120 mph without securement, and is uniquely flexible to adapt to the requirements of virtually any rooftop. It is also deployable on non-soil ground sites.
"With its PowerTilt System, PowerLight continues its solar industry leadership by bringing great innovations to the marketplace. PowerTilt is the perfect fit for our needs," said Bob Holmes, General Manager, Wine Service Co-operative. "Our PowerTilt system is accruing tremendous results; it's exceeding performance expectations for electrical generation. We're harnessing maximum sunlight to generate clean, reliable and renewable solar energy. We're also very impressed by how quickly it was successfully installed."
Whereas PowerGuard performance is optimized in constrained rooftop environments where it contributes to maximum PV density, PowerTilt performance is optimized for larger roofs with less space constraints as well as underutilized tracks of land, such as ground reservoirs.
PowerTilt has several innovative features that make it an optimal solution for quick, seamless, and rapid solar deployments:
Lightweight - Each module is less than four lbs per square foot
Seamless Integration - Operates within existing electrical network
Easy Installation - Non-penetrating solar modules are easy to install without mechanical roof attachments
Efficient Shipping - Modules are easily transported to the site as well as throughout the installation
Rapid Deployment - Large-scale solar arrays can be installed and commissioned rapidly
(within weeks; in many cases within days)
Flexible Design - Modular design enables nearly any shape or size solar array to be rapidly installed
Unobtrusive Installation - Modules do not interfere with roof operations or drainage
Corrosion Resistance - Durable module design and construction protects the roof from long-term weather damage and UV degradation
Pleasing Aesthetic - Low profile offers a clean look that is architecturally consistent with most facilities
Proven Design - Wind-tested to be stable at up to 120 mph—without roof penetration
Efficient Generation - Southward-facing tilt (in the Northern Hemisphere) provides more energy production when compared to a flat system
Tremendous Value - Delivers best price performance available today
To learn more about PowerLight and PowerTilt, please visit: www.powerlight.com
About PowerLight
PowerLight Corporation is a leading global provider of large-scale solar power systems, delivering unmatched experience and proven financial performance to commercial, utility, public sector, and residential customers. PowerLight's industry-leading products, technologies and services enable our customers to maximize clean energy output along with project savings. Today, PowerLight designs, deploys, and operates the largest solar power systems in the world through market-leading innovation and exceptional customer service. For more information, please visit www.powerlight.com.
Featured Product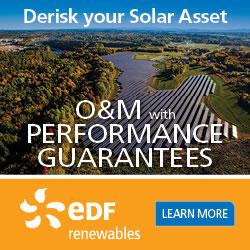 EDF Renewables offers the same innovative solutions that maximize the performance of our own 5.2 GW of installed projects. Because we're not an equipment manufacturer, our recommendations are transparent and data-driven. We cover the entire project lifecycle: from pre-commissioning support, through warranty and post warranty operation, to late stage and decommissioning.