Stephen L. Cowell, chairman and CEO of Conservation Services Group (CSG), has been honored by Northeast Energy Efficiency Partnerships (NEEP) with a "Leadership in Energy Efficiency" award.
STEPHEN COWELL, OF CSG, WINS LEADERSHIP AWARD FOR WORK WITH NEW ENGLAND ENERGY

EFFICIENCY COUNCIL
WESTBOROUGH, Mass., July 12, 2006 - Stephen L. Cowell, chairman and chief executive officer of Conservation Services Group (CSG), has been honored by Northeast Energy Efficiency Partnerships (NEEP) with a "Leadership in Energy Efficiency" award for his work, and the efforts of the group he co-founded, the Northeast Energy Efficiency Council (NEEC). Cowell accepted the award at NEEP's annual Northeast Energy Efficiency Summit in Boston recently.
The NEEP "Leadership in Energy Efficiency" award honors efforts to advance energy efficiency to protect the environment. According to NEEP, NEEC and Cowell were recognized for their many contributions to promoting sound energy efficiency policy in the Northeast. Due to the advocacy efforts of Cowell and NEEC, energy efficiency has become an integral part of the restructured electric market in the region for the past decade. The group's efforts have led to the preservation of energy efficiency program funding by utilities in Connecticut and Massachusetts throughout the years, among other advancements that benefit the environment. Cowell and NEEC have also participated in the collaborative advocacy efforts of many organizations including the National Association of State Public Interest Research Groups, the Regulatory Assistance Project and Environment Northeast.
In addition to supporting NEEC's efforts, Cowell has spearheaded CSG for the past 22 years, expanding the $40 million company to 14 offices and more than 250 employees. Prior to founding CSG, Mr. Cowell held various positions in private organizations and in state government, including the Dukakis administration, where he was the director of the Massachusetts Office of Citizen Participation. In addition to his responsibilities with CSG, Mr. Cowell is a co-founder and vice president of Energy Federation, Inc., a sister company of CSG founded in 1982. In 1996, he founded NEEC to be the advocate and voice of the energy efficiency industry. Cowell is also a co-founder and former treasurer of the New England Energy Policy Council, is a founding member of NEEP and serves on the organization's board of directors. Cowell is also on the board of directors for several other organizations including the Solar Energy Business Association of New England, the Building Performance Institute and Affordable Comfort, Inc.
Throughout his 30-year career, Cowell has been the recipient of many industry awards. Most recently, he was named a "Champion of Energy Efficiency," from the American Council for an Energy Efficient Economy in 2004.
Mr. Cowell holds a B.A. from Brown University and completed graduate work at Boston University. Mr. Cowell currently resides Tyingham, Mass., in a 6,500 sq. ft. ENERGY-CRAFTED home that he built and designed himself. His home is super insulated and solar heated, with annual heating bills of only $400.
Founded in 1984, CSG is a non-profit organization based in Westborough, Mass. The company provides energy saving strategies, products, services and renewable energy technologies to consumers and businesses nationwide. For more information, visit www.conservationservicesgroup.com. NEEC is a business association of the energy efficiency industry. Founded in 1992, the group promotes energy efficiency policies, programs and technologies that create jobs, foster economic growth and improve the environment. For more information, visit wwww.neec.org.
Featured Product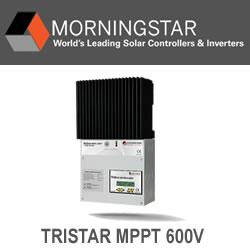 Morningstar's TriStar MPPT 600V charge controller leverages Morningstar's innovative TrakStar™ MPPT technology and our 20+ years of power electronics engineering excellence, to enable the widest input operating voltage range available from a solar array, wind turbine or hydro input. This controller's standard and DB versions are for off-grid applications, and the TR versions were developed to enable retrofitting grid-tied systems with battery backup.