Xantrex Technology Inc. has expanded its North American solar product line to include the GT 3.8 Grid Tie Solar Inverter. The new 3.8 kilowatt inverter has the highest efficiency for its power range as determined by the California Energy Commission (CEC) inverter test protocol.
VANCOUVER, B.C., July 19, 2006 - Xantrex Technology Inc. (TSX:XTX) has expanded its North American solar product line to include the GT 3.8 Grid Tie Solar Inverter. The new 3.8 kilowatt inverter has the same great features of the Xantrex GT Series, and has the highest efficiency for its power range as determined by the California Energy Commission (CEC) inverter test protocol.

Xantrex GT Series Inverters efficiently convert direct current (DC) power from solar panels into high-quality alternating current (AC) power for the electricity grid. The GT 3.8 is the latest addition to the Xantrex GT Series Grid Tie Solar Inverters, which also include the GT 2.5, GT 3.0, and GT 3.3. This wider product range offered by Xantrex gives system integrators and installers the ability to better meet the capacity requirements of a broad spectrum of solar system sizes.
Xantrex designed the GT 3.8 to allow installers to use a 20 amp output current breaker. Two GT 3.8 inverters will fit on a standard 200 amp service panel without exceeding the NEC limit of 25% of service panel rating from current sources. The GT 3.8 can be used with all other GT models in multi-unit installations to customize the system size with the solar array.
Xantrex has shipped over 35 megawatts of GT Series Inverters since the first product launched in late 2004. Each new Xantrex GT Inverter launched has quickly become the leading inverter of choice for its power range among system installers.
"Xantrex has again delivered an outstanding inverter, which builds on the value and reliability of its GT Series Inverters," said Mike Hall, Chief Marketing Officer at Borrego Solar. "At 95% CEC efficiency, the GT 3.8 really helps home owners maximize their rebates and energy output. We are very excited about this new inverter."
The new 3.8 kilowatt technology is based on the same successful platform as the rest of the GT Series, which offers features and benefits not found on inverters by other manufacturers. The Xantrex GT Series has become a popular choice for system integrators and installers in North America because of its reliability, efficiency, high power density and ease of installation.
Xantrex uses a highly disciplined approach to design its grid tie solar inverters for high efficiency, long life and reliability. The inverter components were tested extensively with Highly Accelerated Life Test (HALT) methods, which expose the components to extreme thermal and mechanical conditions that go beyond conventional testing methods typically used by other inverter manufacturers. The result is rugged, top-quality products that are built to withstand all types of environments, and all of that technology is incorporated into a sleek, compact design that makes installation quick and easy. The broad DC input range and wide photovoltaic Maximum Power Point Tracking (MPPT) range also make Xantrex GT Series Inverters the perfect match for a wide variety of solar panels available from all the leading manufacturers.
About Xantrex
Xantrex Technology Inc. (www.xantrex.com) is a world leader in the development, manufacturing and marketing of advanced power electronic products and systems for the renewable, portable, mobile, and programmable power markets. The company's products convert and control raw electrical power from any central, distributed, renewable, or backup power source into high-quality power required by electronic and electrical equipment. Headquartered in Vancouver, British Columbia, the company has facilities in Arlington, Washington; Livermore, California; Elkhart, Indiana; Barcelona, Spain; and Reading, England. Xantrex is publicly listed on the Toronto Stock Exchange under the ticker symbol "XTX".
Note that this news release contains forward-looking statements related to Xantrex Technology Inc. Such statements reflect the current views of Xantrex with respect to future events and are subject to risks and uncertainties that could cause actual results to differ materially from those contemplated in these forward-looking statements.
For further information, please contact:
Cathy Gibson
604-422-2589
cathy.gibson@xantrex.com
Featured Product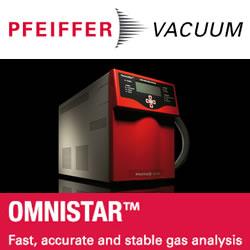 The Pfeiffer Vacuum OmniStar benchtop analysis system offers you a compact footprint, powerful software and Ethernet connectivity. It's the optimum solution for many real-time gas analysis applications. With the OmniStar, Pfeiffer Vacuum offers you a complete solution for gas analysis, in chemical processes, semiconductor industry, metallurgy, fermentation, catalysis, laser technology and environmental analysis. The turnkey OmniStar gas analysis system consists of heated, temperature-regulated gas inlet system, Quadrupole mass spectrometer, a dry diaphragm vacuum pump and HiPace turbopump. Unlike competing methods such as FTIR, OmniStar is suitable for qualitative and quantitative analysis of most gases.