MEMBERSHIP IN CONGRESSIONAL RENEWABLE ENERGY/ENERGY EFFICIENCY CAUCUS SWELLS TO 221; NOW INCLUDES A MAJORITY OF VOTING MEMBERS OF THE U.S. HOUSE OF REPRESENTATIVES
WASHINGTON DC -- The House Renewable Energy and Energy Efficiency (RE/EE)

Caucus today announced that Rep. Frank R. Wolf (R-VA) has joined the
congressional group as its 221st participant bringing membership up to a
majority of the voting Members of the U.S. House of Representatives.
The body now includes 218 voting Members (138-D; 79-R; 1-I) representing
44 states as well as three non-voting delegates from Washington DC, the
Virgin Islands, and American Samoa, making the RE/EE Caucus one of the
largest caucuses in the U.S. Congress.
Founded in 1995, the House RE/EE Caucus is co-chaired by Reps. Zach Wamp
(R-TN) and Mark Udall (D-CO) with Reps. Vern Ehlers (R-MI), Chris Van Hollen
(D-MD), Greg Walden (R-OR), and Ron Kind (D-WI) serving as vice-chairs.
The House RE/EE Caucus is a non-legislative, information sharing
organization that regularly provides its Members with updates on the latest
developments in the cross-section of renewable energy and energy-efficient
technologies. Since its founding, the Caucus has worked closely with the
Sustainable Energy Coalition.
Jointly-sponsored activities have included an annual Renewable Energy and
Energy Efficiency Expo which brings dozens of sustainable energy businesses
to the Congress to display their technologies; the next is slated to be held
in spring 2007 (date to be announced).
During this past year, the Caucus has also co-hosted a series of briefings
for Members, their staffs, and the general public on the status of solar,
wind, geothermal, biomass, hydroelectric, hydrogen, and energy efficient
technologies.
The Caucus also distributes to its Members a weekly compilation of news
stories prepared by the Sustainable Energy Coalition on sustainable energy
issues.
A copy of the complete list of Members of the House RE/EE Caucus is attached
to this news release.
# # # # # # #
The Sustainable Energy Coalition is a coalition of 80 national and state
business, environmental, consumer, and energy policy organizations which
collectively represent several thousand companies, municipal utilities, and
community groups. Founded in 1992, the Sustainable Energy Coalition works
to promote the increased use of renewable energy and energy efficient
technologies.
Featured Product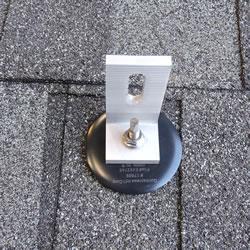 SolarRoofHook's Low Profile QuickBOLT with Microflashing™ is the industry's affordable, UL Certified Asphalt Shingle mounting system. The Microflashing™ is compressed by the collar on the bolt to create a water-tight seal. With an installation time of less than one minute, the Low Profile QuickBOLT allows installers to complete more jobs.