Twelve new FFV models will be produced in 2007.
2007 Flexible Fuel Vehicles Announced

Jefferson City, MO - Twelve new flexible fuel vehicle (FFV) models will soon be available for purchase. DaimlerChrysler, Ford, General Motors, Mercedes Benz and Nissan have announced their model year 2007 E85 compatible vehicles.
"We are pleased to see the automobile manufacturers follow through with their promise to increase their number of FFV offerings," stated Phil Lampert, Executive Director of the National Ethanol Vehicle Coalition (NEVC). "This increase in production along with recent pledges for additional new vehicles, demonstrates the commitment of the auto industry to respond to consumer demands for E85 vehicles."
Along with the continuation of many 2006 models, the automobile manufacturers will offer the following new FFVs in 2007:
DaimlerChrysler:
4.7 liter Chrysler Aspen
4.7 liter Jeep Commander
4.7 liter Jeep Grand Cherokee
4.7 liter Dodge Dakota
General Motors:
5.3 liter Chevy Express
5.3 liter GMC Savana
3.9 liter Chevy Uplander
3.9 liter Pontiac Montana
3.9 liter Saturn Relay
3.9 liter Buick Terraza
Mercedes Benz
2.5 liter C230 sedan
Nissan
5.6 liter Armada
"We must now focus on increasing the infrastructure across the entire U.S. to help fuel these vehicles with 85 percent ethanol," Lampert added. "We are continuing to work with the Congress to consider incentives that would advance alternative fuel systems and are hopeful that the Senate will continue to appropriate funds to assist us in this effort."
A listing of all thirty-one FFV models can be found at www.E85Fuel.com.
Featured Product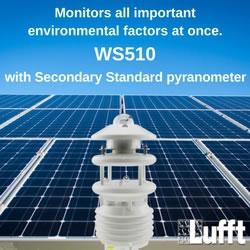 Professional weather sensors form the heart of large solar plants supporting their operation and performance. Lufft was the first manufacturer to combine several sensors in one housing, bringing the largest multiparameter weather sensor family with 19 members into being. Many of them are well-suited for solar site assessment and continuous monitoring. The most commonly used one is the WS600 delivering data on temperature, air pressure, wind, relative humidity and precipitation. Through its open protocol, it can easily be attached to radiation sensors e.g. from Kipp&Zonen. Other models have an integrated Silicon, Second Class or Secondary Standard radiation sensor.