Green Building Goes Mainstream as Energy Costs and Environmental Concerns Spark Greater Adoption EnvironmentStocks.com Reviews Green Building Technology and Industry Participation from Alcoa, XsunX, Centex Corp and International Barrier
Green Building Goes Mainstream as Energy Costs and Environmental Concerns Spark Greater Adoption

EnvironmentStocks.com Reviews Green Building Technology and Industry Participation from Alcoa, XsunX, Centex Corp and International Barrier
POINT ROBERTS, Wash., DELTA, B.C., August 1st, 2006 - www.EnvironmentStocks.com (ES) and www.RenewableEnergyStocks.com' (RES), investor and industry news portals for the environmental and clean energy sector, review the green building arena in "Green Building Goes Mainstream as Energy Costs and Environmental Concerns Spark Greater Adoption." Green building has moved mainstream as the demand for the utilization of construction products, materials, and techniques that minimize waste, improve air and water quality, increase energy efficiency and protect the environment, grows.
Working to meet the increasing need for environmentally friendly construction and energy production are companies such as XsunX, Inc, and Aloca Inc. with their focus on integrated solar technologies, in addition to efforts by home builder Centex Corporation and International Barrier, a developer of environmental friendly fire resistant building materials.
According to a recent survey conducted by McGraw-Hill Construction/National Association of Home Builders (NAHB) the residential green building market is anticipated to grow from $19 billion from 2005 to $38 billion by 2010.
Taryn Holowka, Communications Manager, for the U.S. Green Building Council explains, "People are seeing gas, energy and electricity prices rising, and one way to combat that is through green building practices."
According to Dr. Michael Huddy, President & CEO of International Barrier Technology, Inc. (OTCBB: IBTGF; TSX Venture: IBH), "A big part of the green movement stems from the media which is much more attuned to issues as they interface environmental issues with health. Our customers are coming to us as they not only seek environmentally friendly building materials, but also as they are steering away from products that may prove to be hazardous down the road."
As a major player in the homebuilder space Centex Corp (NYSE: CTX) implements a variety of measures, many things as a matter of standard that brings a home close to certification. According to the Company, "For the most part, we are 75% in line with the green certification standards on most of our homes. In addition, we continue to look into costs associated with green products such as Low Voc and No Voc finishes, alternate attic insulation techniques, use of recycled materials, and other green products."
Building Integrated Photovoltaics (BIPV) is a growing segment of the green building industry. Tom Djokovich, CEO of XsunX, Inc. (OTCBB: XSNX) describes, "What architects, builders, and building material manufacturers need are technologies and products that allow them to integrate solar power production capabilities into materials as seamlessly as possible. We are focused on the development of thin film photovoltaic "TFPV" designs that provide light weight, flexible structures that can be integrated into building products and become part of the surface of the building."
Alcoa Inc.'s (NYSE:AA) global Building and Construction Systems business unit, has developed an integrated BIPV sunshade product called 1600 PowerShade® that generates solar power while also providing an optimal level of shade, according to the Company. This leads to energy conservation and an overall reduction of building costs.
To Read "Green Building Goes Mainstream as Energy Costs and Environmental Concerns Spark Greater Adoption" in Full Click Here: http://www.environmentstocks.com/Articles/080106b.asp
EnvironmentStocks.com and RenewableEnergyStocks.com', investor and industry news portals within the InvestorIdeas.com content umbrella, do not make recommendations, but offer unique free information portals to research news, exclusive articles and columns, audio interviews, blogs and investor conferences for the environmental and clean energy sector.
RenewableEnergystocks.com' also created "The Ultimate Green Tech Investor Virtual Stock Trading Contest" - (register now at www.greentechinvestor.com) giving investors a chance to win a ZAP electric car or electric scooter as well as gain a valuable education on green technology.
Visit our growing list of participating public companies in the environmental sector: www.environmentstocks.com/Enviro_Stocks/Stock_List.asp and the renewable energy industry: www.renewableenergystocks.com/Companies/RenewableEnergy/Stock_List.asp.
RenewableEnergyStocks.com is also available in German and Chinese.
Featured Clean Tech Sponsors: (The ES and RES portals are compensated by Barrier and XsunX as disclosed in disclaimer below)
International Barrier Technology, Inc. ("Barrier") (OTCBB: IBTGF; TSXV: IBH)
For More Info: www.environmentstocks.com/Companies/IntlBarrier/Default.asp or www.intlbarrier.com.
XsunX, Inc. (OTCBB: XSNX) For More Info: http://www.renewableenergystocks.com/CO/XSNX/Default.asp or www.xsunx.com
InvestorIdeas.com Disclaimer: www.InvestorIdeas.com/About/Disclaimer.asp. Our sites do not make recommendations, but offer information portals to research news, articles, stock lists and recent research. Nothing on our sites should be construed as an offer or solicitation to buy or sell products or securities. We attempt to research thoroughly, but we offer no guarantees as to the accuracy of information presented. All Information relating to featured companies is sourced from public documents and/ or the company and is not the opinion of our web sites. These sites are currently compensated by its "featured companies." International Barrier Technology, Inc. (IBTGF: OTCBB): Three thousand per month and 100,000 options. XsunX, Inc. (OTCBB:XSNX.), Three thousand five hundred dollars per month and two thousand equivalent in one forty-four shares.
For more information contact:
Dawn Van Zant 800.665.0411
Ann-Marie Fleming 866.725.2554
Email: dvanzant@investorideas.com, or afleming@investorideas.com
Web Site: www.EnvironmentStocks.com
Source: EnvironmentStocks.com, International Barrier Technology, Inc., XsunX, Inc., Alcoa Inc., Centex Corp
Featured Product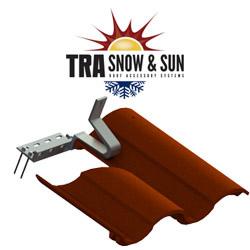 You haven't installed a tile mount that is easier to install than the Solar Tile Mount manufactured by TRA Snow and Sun. Solar Tile Mount is used on all tile roof profiles: flat, mid, and high. It is made in the USA of aluminum alloy for strength and excellent corrosion resistance. Solar Tile Mount is built to allow more ease in installation with more rise from the tile surface to the rail for better air flow below panels. The adjustable base is longer than most allowing attachment 6" to the left or right to have the bracket in the base of the pan of the tile and still fasten to the rafter. Solar Tile Mount is adjustable for counter batten systems from ¾" to 3". The horizontal rail is directly above base fasteners giving greater uplift resistance than any other system. For superior waterproofing apply TRA Snow and Sun's butyl backed VersaFlash aluminum flashing. No tile flashing is needed on top of the tile for greater labor and material cost savings.