RenewableEnergyStocks.com' Features Renewable Energy Content with Global Leaders, China and Germany
Leading Website for Renewable Energy Stocks, Now Translated in Chinese and German

RenewableEnergyStocks.com' Features Renewable Energy Content with Global Leaders, China and Germany
POINT ROBERTS, Wash., Delta BC - August 8 , 2006 www.RenewableEnergyStocks.com', the leading investor and industry portal for the renewable and alternative energy sector, is a content provider with a blend of original articles, audio interviews, blogs and stock directory in combination with industry resources, news feeds, links and third party content partners. RenewableEnergyStocks.com' content is now available to interested global visitors following the sector, in both German and Chinese. Germany, one of the first dominant global players in renewable energy and China, the current leading investor in renewable energy, are paving the path for a renewable future. Companies in the sector are benefiting from the global demand for alternative energy solutions as oil prices revisit recent highs.
RenewableEnergyStocks.com'Translated in Chinese: www.renewableenergystocks.com/RES_cn/Default.asp
RenewableEnergyStocks.com' Translated in German: www.renewableenergystocks.com/RES_deu/Default.asp
About our Clean Energy Portals:
www.RenewableEnergyStocks.com' (RES), www.EnvironmentStocks.com (ES) and www.FuelCellCarNews.com (FCCN) are portals within the InvestorIdeas.com' content umbrella. Our sites do not make recommendations, but offer investors research, news, interviews, articles, blogs and links to public companies within the renewable energy, clean tech and fuel cell sectors. We provide a variety of renewable and green content through: Clean Energy News Blog, Renewable Energy Blog and articles by solar expert, J. Peter Lynch, all available on RenewableEnergyStocks.com' Trade Mark for RenewableEnergyStocks.com'; registration number 3103195.
For our comprehensive list of Renewable Energy Stocks: http://www.renewableenergystocks.com/Companies/RenewableEnergy/Stock_List.asp
Renewable Energy Conferences and Events:
The Ultimate Green Tech Investor Virtual Stock Trading Contest (June19 th - August 18th) - Green technology investor portals www.RenewableEnergyStocks.com and www.GreenTechInvestor.com present "The Ultimate Green Tech Investor Virtual Stock Trading Contest" - register now for a chance to win a ZAP® www.zapworld.com electric car or electric scooter as well as gain a valuable education on green technology over the course of this summer's virtual trading competition.
Current sponsors and prizes include a ZAP® (NYSE Arca: ZAP) www.zapworld.com Electric Car, and Electric Scooter, plus prizes from MicrocapTrade www.MicrocapTrade.com, Energy Hedge Fund Center LLC www.energyhedgefunds.com and eco friendly children's products, Wild Heart Ranch www.WildHeartRanch.com
To register and sign up: http://www.greentechinvestor.com/sign_up.aspx
List of Green Stocks to Trade: http://www.greentechinvestor.com/stock_list.aspx
Disclaimer: Portals are compensated by Featured advertising companies as disclosed in disclaimer
Disclaimer: www.InvestorIdeas.com/About/Disclaimer.asp Our sites do not make recommendations, but offer information portals to research news, articles, stock lists and recent research. Nothing on our sites should be construed as an offer or solicitation to buy or sell products or securities. We attempt to research thoroughly, but we offer no guarantees as to the accuracy of information presented. All Information relating to featured companies is sourced from public documents and/or the company and/or IR firm and is not the opinion of our web sites. These sites are currently compensated for by its "featured companies" www.InvestorIdeas.com/About/Disclaimer.asp InvestorIdeas.com' and all portals within the content portfolio are owned by ECON Corporate Services, Inc. and all Registered Trade Marks are the property of ECON including InvestorIdeas.com' and RenewableEnergyStocks.com'.
For more information contact:
Dawn Van Zant: 800-665-0411 - dvanzant@investorideas.com
Ann Marie Fleming: 866-725-2554 - afleming@investorideas.com
Source: RenewableEnergyStocks.com'
Featured Product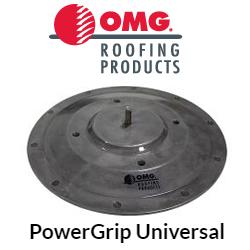 Eliminate Solar Rack Ballast and Reduce Rooftop Material Handling. PowerGrip™ Universal (PGU) is a commercial roof mount system designed to secure solar racks and other equipment to any type of commercial roofing system. PGU provides a secure connection directly to the roof deck or structural members and is designed to reduce or eliminate ballast in solar racking systems, so there's less weight on the roof and less material handling. Made of heavy-duty cast aluminum, PGU units include a base ring which is secured through the roofing cover and into the structural roof deck, and a waterproof top plate.