Seventy representatives of governments, the private sector, NGOs and development banks met at Wilton Park for one week to discuss the G8 Plan of Action for energy security following up the 2005 Gleneagles and the July 2006 St Petersburg meetings.
Wilton Park, August 7th, 2006

Seventy representatives of governments, the private sector, NGOs and development banks met at Wilton Park for one week to discuss the G8 Plan of Action for energy security following up the 2005 Gleneagles and the July 2006 St Petersburg meetings. Elliot Morley, UK Government Special Representative for the Gleneagles Dialogue, stated that "energy efficiency and diversity of supply, including renewable energy and the cleaner use of fossil fuels are all within our grasp and all can help us to meet both our climate security and energy security objectives".
While renewables, clean coal and carbon sequestration were discussed, energy efficiency was repeatedly emphasized as a critical mechanism to lower fuel imports, carbon emissions and poverty levels worldwide. "Focusing on both the demand and supply side of energy is the only path to more sustainable, productive and competitive economies. It is no surprise that energy efficiency has now been recognized as the other side of the renewables coin," stated Marianne Osterkorn, International Director of REEEP.
The International Energy Agency (IEA) has estimated that $700 billion invested into energy efficiency between now and 2030 would result in returns of more than $1.4 trillion in terms of avoided supply-side investment. While industrial competitiveness was stated to be a driver for the investments, lower operating costs for industry would also be accompanied by lower carbon emissions and lower fuel use.
Wang Wanxing from the China Energy Foundation stated that "implementing appliance standards could reduce residential energy consumption in China by 12% by 2020, eliminating thirty-four 1,000 MW coal fired power stations." The benefits of standards have also been seen in Thailand, where voluntary standards for two products have made considerable savings in oil imports and CO2 emissions. Ghana has focused on improving energy standards for air conditioning systems with considerable effect.
The Asian Development Bank has launched an Energy Efficiency Initiative to expand its program on energy efficiency to $1 billion a year. According to Samuel Tumiwa, a senior investment officer at the bank, "part of the Initiative will be to develop an innovative Asia-Pacific Fund for Energy Efficiency that will provide loan guarantees through local financial institutions in developing countries to provide loans for smaller energy efficiency investments, that are numerous but in the past have not been financed by the Bank." The Asian Development Bank is also working with other multilateral financial institutions such as the World Bank and the European Bank for Reconstruction and Development (EBRD) to share lessons learned and develop an Investment Framework to promote clean energy.
The message at Wilton Park was clear from both multilateral funding organizations such as the EBRD and the International Finance Corporation (IFC), as well as major companies such as BP and Shell. Well-chosen energy efficiency and renewables projects are good business. The United Nations Industrial Development Organisation (UNIDO) has also shown that concentration on the efficiency of industrial systems, not just individual appliances, enables considerable energy savings.
IEA analyses in support of the G8 Plan of Action ("Energy Technology Perspectives 2006: Scenarios and Strategies to 2050") indicate that well-chosen energy efficiency and renewables strategies will make considerable savings and reduce carbon dioxide emissions dramatically. Instead of more than doubling CO2 emissions by 2050 (+137% increase), the application of strategies such as energy efficiency ("the biggest fuel"), increasing use of renewable energy, nuclear power - in countries where it is accepted by the public - and carbon capture and storage could bring global carbon dioxide emissions in 2050 virtually back to current levels (+6%). Breakthroughs in hydrogen technologies, fuel cells and advanced biofuels have the potential to lead to even more dramatic improvements.
Representatives from India highlighted that the country's energy demand-supply gap of 8% is impeding its rapidly growing economy. The Indian government has recently launched an energy efficiency strategy that is a combination of market-based and public policy incentives.
Buildings and the role of building codes were discussed since the built environment produces more than one-third of total carbon emissions. Energy use varies around the world, however the IEA estimates that the 700KWhr/m2 average energy usage experienced in the 1970s has fallen to an average of 100KWhr/m2 today in Germany. Japan wants to get this number lower and has launched the Nippon Keidanren Voluntary Action Plan for their entire industrial sector to benchmark and promote energy conservation.
The Wilton Park event was co-sponsored by the Renewable Energy and Energy Efficiency Partnership (REEEP), the UK Department for Environment, Food and Rural Affairs (DEFRA), the UK Foreign and Commonwealth Office (FCO) and the UK Department for International Development (DFID).
Featured Product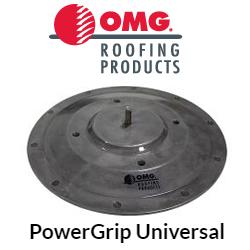 Eliminate Solar Rack Ballast and Reduce Rooftop Material Handling. PowerGrip™ Universal (PGU) is a commercial roof mount system designed to secure solar racks and other equipment to any type of commercial roofing system. PGU provides a secure connection directly to the roof deck or structural members and is designed to reduce or eliminate ballast in solar racking systems, so there's less weight on the roof and less material handling. Made of heavy-duty cast aluminum, PGU units include a base ring which is secured through the roofing cover and into the structural roof deck, and a waterproof top plate.